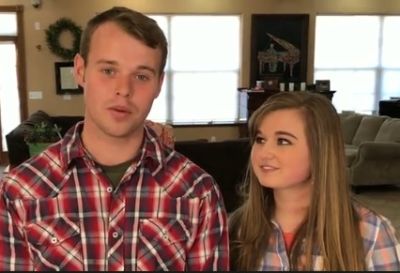 Another day, another Duggar kid courtship…but this time, it's one of the Duggar sons edging closer to the altar, instead of a daughter!
The Duggar Family announced today that Joseph Duggar (who is the seventh-oldest of Jim Bob and Michelle's 19 children) is officially in a courtship with Kendra Caldwell.
In a video released on Wednesday by TLC, Joseph tells Counting On fans that he is "very excited" to announce that he's courting Kendra. The couple– who are both dressed in plaid for the video– met in church.
"We've been talking for about six months and whenever we started talking, we really hit it off really well," Joseph says as Kendra looks fondly at him. (She's already perfected the Duggar bride googly-eyed stare!)
"Our interests and the things that we stand for, we're both ready for the next step of courtship," 22-year-old Joseph adds.
Kendra says she's already on-board with the Duggar courtship rules.
"I'm looking forward to the side hugs and phone calls and texting and also getting to do ministry stuff together, out in public with everyone knowing that we're courting," she says.
Joseph reveals that he gave Kendra a promise ring, which he says signifies his promise to wait for marriage before getting physical in their relationship.
Kendra, who looks terrified throughout the whole video, says she's excited to allow fans to watch their courtship journey on the next season of 'Counting On,' which premieres this summer.
So who is Kendra Caldwell? From what The Ashley can gather, she is daughter of Paul Caldwell, who is the pastor of the Lighthouse Baptist Church in Fayetteville, Arkansas. Kendra, who is 18, is the oldest of seven children. (Paul once ran for State Representative in District 90 in Arkansas but lost. He was endorsed by the Duggar family, including a pre-scandal Josh Duggar.)
Kendra and her sister, Lauren, were seen helping to prepare decorations during the Jinger Duggar wedding episode of 'Counting On,' and it's been rumored that another Duggar boy is currently courting Lauren. (However, the Duggars have not confirmed that any other boys are in courtships currently.)
Both Kendra and Lauren were reportedly in attendance at the Duggar Family Valentine's Day party last month.
Currently, there are four single Duggar boys that are of courting age: John-David (age 27), Josiah (age 20), and 18-year-old twins Jedidiah and Jeremiah. Joseph's little sister, 19-year-old Joy-Anna, recently announced her engagement to Austin Forsyth, so she will be getting married shortly.
Watch the courtship announcement video below:
(Photo: TLC)