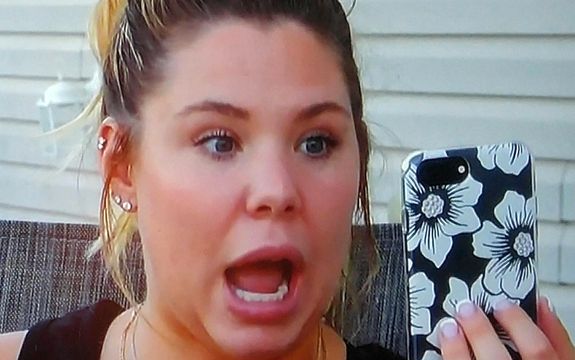 It's once again time to check in with the crew from Teen Mom 2! It's been a few weeks, but The Ashley can see right away that not much has changed since the last recap: Kail and Javi are still one small step away from mud-wrestling for custody of Lincoln (and/or the family Starbucks gold card),  while Jenelle is still singing "Gonna Get Jace Back," that fine little ditty she's been belting for the last seven years. (Sing along if you know it!)
Anyway, let's get started before Jerry Springer does a Very Special Episode on Kail and Javi and The Ashley has to recap that too!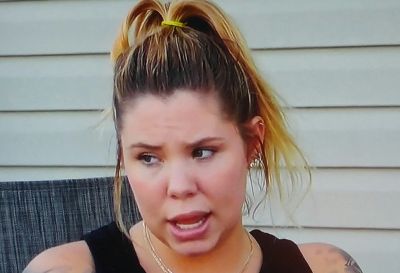 The episode kicks off at Kail's place. She is not happy. (I'll give you a moment to recover from the shock of that statement. Can you imagine Kail not being happy?!)
She tells Producer J.C. that "Psycho" Javi came a'pounding on the basement door recently, breaking into the house while Kail was on the crapper.
AS.YOU.DO.
Kail says that Javi was getting all "Nancy Drew" up in the joint, going through her drawers and looking for clues that she had some dude living with her. (Hey Javi, forget the drawers, look in her womb!)
As always, Kail's trusty pal Sterling was at the house, as were Lincoln and Isaac. Kail says she had to call up Jo and have him come get Isaac so that the kid didn't pick up any breaking-and-entering habits from Javi.
Kail says that Javi refused to leave the house. (Maybe he was just looking for the copy of How to Not Get Screwed in Your Divorce Even if Your Wife is a Reality Star that Jeremy lent him a while back?) Because this is 'Teen Mom 2,' the police were called, but because Javi and Kail are still legally married, nothing could be done. (I guess that means there are no clips of Javi being hauled out in handcuffs screaming, "Why am I a guy?!" Sigh.)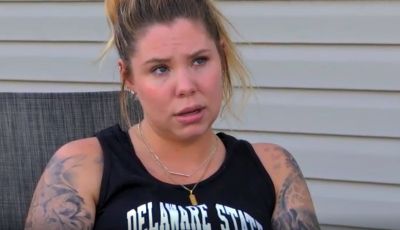 Just then, Sterling calls up to talk about how upset she was when Javi broke into the house like a Yeezy-wearing Kool-Aid man.
"I was legit, no funny, scared," Sterling so eloquently tells Kail.
Kail says that she's expecting Javi to apologize for his recent "psychopathic" actions.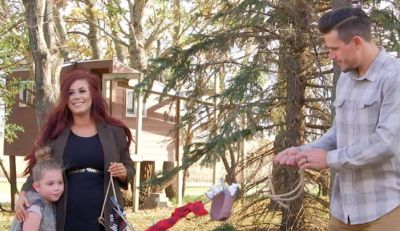 Meanwhile, it's an important day for Chelsea, who, along with Cole and Aubree, is taking her "gender reveal" photos for Instagram. They recently found out that they are having a boy, They decide on two photos and we get to watch as they post the pics to their Instagram accounts.
This is riveting TV, folks.
Luckily we can always count on Leah to keep things interesting and somewhat trashy (both literally and figuratively.) It's time for the ding-dang drop off, so Leah pulls off to the trusty turnout in the woods so that she can fetch an offspring from an ex-husband.
She picks up Addie, and chats with Jeremy about work, the weather and whatnot. Leah then brings up the fact that she doesn't have nuthin' to do during the day, once she throws a can of ravioli in each of the youngins' lunch sacks and ships them off to school for learnin'.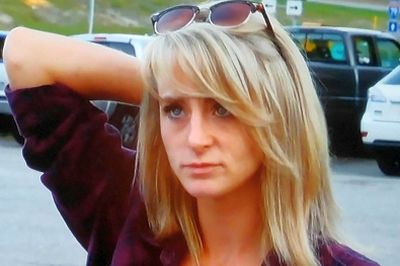 She's considering using that extra time to go back to school, and Jeremy is surprisingly supportive of her plan. (He's surely happy to support any idea of Leah's that he doesn't have to pay for, and doesn't involve him driving around in an SUV stacked to the ceiling with Mary Kay "Strawberry Frost" blush compacts.)
Leah is going to head over to the local beauty school to get more information. She says that she was always planning to go to college, but she kept finding babies in her gersh-dern tummy!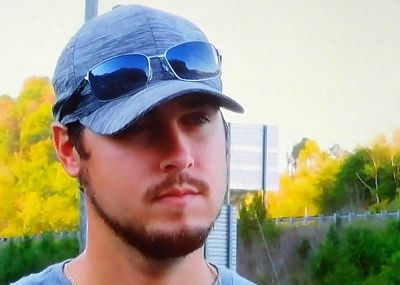 "If I hadn't gotten pregnant I would have went to college," Leah tells Jeremy.
If only there had been a way to prevent that!
Speaking of not preventing pregnancy, it's now time to check in with Jenelle. She's still mad at her mother, Barbara, and things between them are tense. Babs arrives to deposit Jace at Jenelle's house for the weekend, and Jenelle tells us that she's planning to be civil to her mom. Of course, though, we're talking about Jenelle here so that could never happen.
Barb and Jace walk in (and, sadly, Babs doesn't utter her trademark, "Oh hi, Juh-nelle" greeting). Pregnant Jenelle is plopped down on the couch and Barb tries to make small talk. She asks how the Spawn of Lurch is doing and Jenelle just totally ignores her.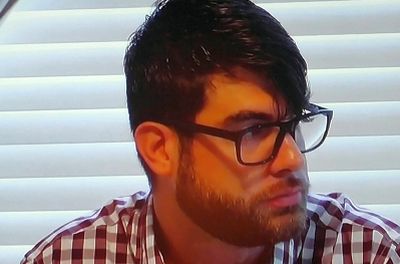 Later, Lurch and Jenelle talk about Babs' visit. Jenelle insists that Barb should just give her Jace back, and then all of their issues will be solved. (I mean, remember how great Jenelle and Babs got along before Jace was born on 16 and Pregnant?! They were practically the Gilmore Girls! BFFs! It's all Jace's fault that they don't get along, of course. It couldn't be because Barb is controlling and Jenelle is an unstable, hissy-fit-throwing egomaniac that still acts like a teenager. Nope.)
Jenelle vows that she will never speak to Barb again if Barb is really insistent on fighting for Jace in court.
"I will completely cut her off and be completely distant!" Jenelle barks.
Um…is that a threat or a promise? Not having to deal with her bitch-of-a-daughta's tantrums and creepy assorted soulmates lurking around probably sounds pretty good to poor Babs right about now!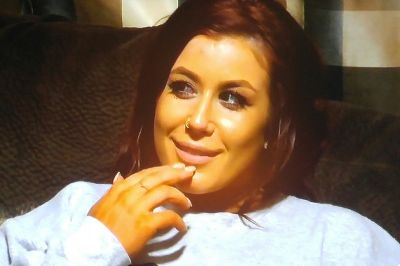 Back in South Dakota, Chelsea literally has no story line. Since it looks like we'll be forced to watch her binge-watching 'Friends' unless the producers come up with something, someone suggests that she get one of those weird "Baby Think It Over" dolls to teach Cole about newborns. (You know the dolls; they are the ones that Jenny Jones used to hand out to out-of-control 13-year-olds that would come on the show and proclaim that "Ain't nobody gonna tell me I'm not old enough to have a baby!" Man, I miss Jenny Jones.)
The fake baby will cry and require the same care that a real child would, so Chelsea decides to rent one so that she and Cole can get used to having a baby around.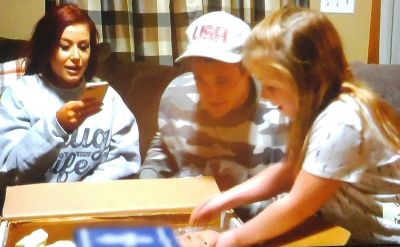 "They have little wieners…and stuff," Chelsea says of the fake babies.
Chelsea really doesn't need a doll. She's been putting up with someone that cries and has a little wiener for years! (Hey, Adam!)
Soon, Chelsea's plastic bundle of joy arrives. They break open the box and reveal a horrifying realistic baby doll that looks like it's ready to haunt your nightmares.
Shudder.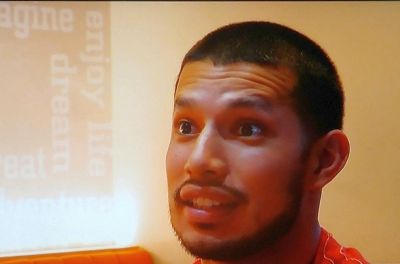 Over in Delaware, Javi and his assorted dudes are grabbing lunch and chatting about Javi's new career as a prowler. Javi insists that he did nothing wrong– he was just trying to drop Lincoln off at Chipotle for Kail. Apparently he didn't arrive fast enough, and Kail got angry and left Chipotle with Lincoln (and most likely a burrito bowl).
Javi says he was upset, so he decided to head over to the house to pick up Lincoln. After scampering over the fence (as you do), Javi realized that the basement door was open, so he entered through there and headed upstairs. That's when he says he encountered a very angry Kail, fresh off the toilet. After she called the cops, Javi says that the cops told Kail she couldn't kick Javi out because it's still technically his house too.
(Um…why didn't Javi just knock on the door like a normal person, rather than prowling around and jumping fences like the Pink Panther?)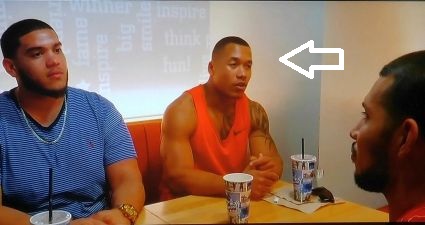 Javi explains that, since he was already in the house, he decided to stroll around and see what kind of a housekeeper Kail has been since Javi moved out. He claims that there are clothes, crap (and possibly gentlemen callers) all over the place.
"I was like, 'What happened to this place? When I was here this was a dope ass crib!' Javi says. "Now it's garbage!"
Javi says that, even though he and Kail are in a bad place, he is still able to see Isaac, which is good.
Over in The WV, Leah's busy fixin' up a big ol' pot of canned soup for the girlseses. (She's even heating it up this time!) She then calls over all the youngins because it's readin' time! Now, Leah may have attended one of those "not well" West Virginia schools, but even she knows the importance of "learning" the kids how to read.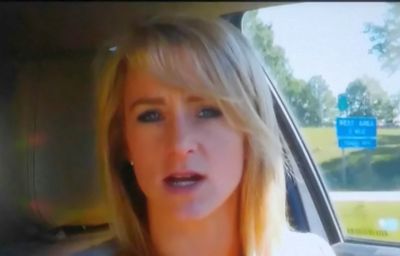 The next day is a very special day for Leah. She's taking Addie over to the nearby beauty school so that she can see "what all" is required for her to sign up. Leah had previously been taking classes at the school, but had dropped out to pursue her dreams of becoming a Mary Kay dealer.
Leah says she wants to make all girls feel beautiful inside and out. (Come on now, girl, we know you literally stole that phrase off of your Mary Kay marketing brochures!)
Addie could give two craps about her Mama providing beauty and whatnot. She demands lipstick, donuts, pizza and the opportunity to pee (but not necessarily in that order) while in the car on the way to the beauty school.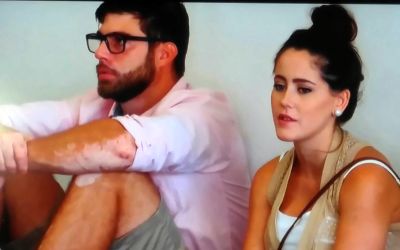 Meanwhile in North Carolina, Jenelle and Lurch (and their assorted kids) head to watch Jace do Jujitsu. Jenelle is giving Jace a bunch of instructions trying to pretend that she is 1)the Dragon Master of Jujitsu and 2) not watching the kid do this for the very first time since 2013.
We watch as Jace literally drags what looks like a lifeless, bloated corpse-of-a-kid across the room and proudly tells Jenelle that he "beat all" of the other kiddies.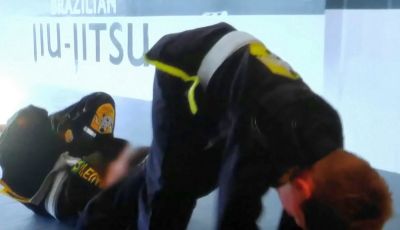 He must have learned that one from his Mama!
Later, it's time for all of Jenelle's offspring to be exchanged. Kaiser must go to Nathan's and Barb is picking up Jace. (I wonder if Jenelle has concocted some sort of Venn diagram to keep all of the custody shifting straight?)
Before they leave to trade kids, though, Jenelle & Co. sit down to gnaw some pizza. Naturally, no meal of Jenelle's would be complete without her talking crap on one of her many ex-fiances, so Jenelle gets straight to it, bashing Nathan, even though Jace and Kaiser are sitting right there.
Nathan texts Jenelle to see if she knows any "good gyms" in her area because he's looking for a change of scenery and would like to pump iron closer to Jenelle and then pick up Kaiser. Lurch refuses to allow Nathan into "their" house, and insists that Jenelle meet up with her meatbag-of-an-ex-fiance somewhere else.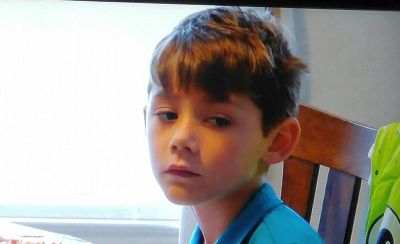 Just then, Babs calls up Jenelle, who explains what Nathan said about picking up Kaiser. Barb assumes that she's going to have to drive all the way to where Jenelle lives to collect Jace. (To be fair, Babs did kind of jump all over Jenelle without letting her finish her sentence. And, yes, it pains The Ashley to stick up for Jenelle.)
Within two seconds though, Jenelle is screaming into the phone, telling her mother that she never said that. Babs insists that she can't hear what Jenelle said very well. (Hey, those Jitterbug phones aren't all that great! Give the poor lady a break, Jenelle!)
Jenelle is soon gesturing wildly and screaming, all while breaking up her sentences into shortened bits to further demonstrate her point.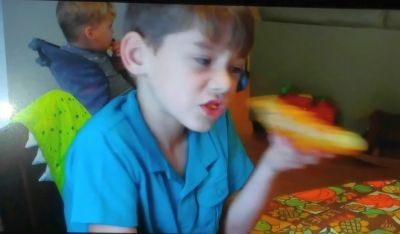 "NATHAN.IS COMING.TO.WILMINGTON!" Jenelle bellows into the phone, while Jace just sits there, trying to enjoy his slice of Meat Lovers in peace.
"NATHAN. IS GOING. TO THE GYM!' she screams.
Well, now that we've established that Nathan will, indeed, be working on his fitness, I feel better.
Jace is looking more and more bothered by the interaction between Jenelle and Babs. He gets even more uncomfortable when Jenelle brings up Babs giving Jace back to her.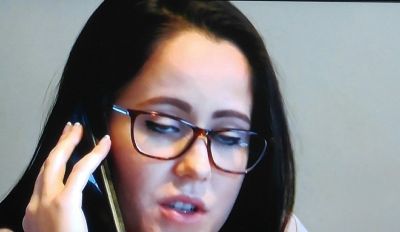 "If you gave Jace back to me in the first place, we wouldn't have to meet up like this!" Jenelle screams into the phone.
Oh, by all means, give the kid permanent residence at Jenelle's Crazy Castle, where there's always a random soulmate lurking in the moat, and Queen Jenelle is screaming "Off with their heads" toward any ex-fiance and/or family member who doesn't give her her way.
Jenelle cusses into the phone and says that she's tired of doing everything "Barbara's way."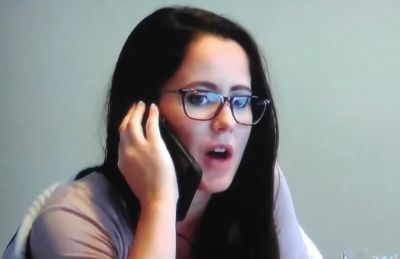 "Do you want me to wipe my ass the same way Barbara does too?" Jenelle asks.
Um, thanks for that, Jenelle. Just thanks. Now I'm going to have the image of you wiping yourself (to the tune of Ke$ha's "Tik Tok") in my head for the foreseeable future.
Meanwhile, David is standing in the kitchen with a stupid look on his face, popping protein pills and surely practicing "filling the streets with uppercuts" just in case Jenelle's fight with Barb turns physical and she needs him to finish off the old lady.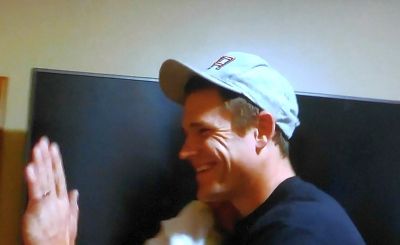 In South Dakota, Chelsea and Cole are taking care of their plastic baby. The baby is screaming, and apparently it even poops its diaper. (The Ashley still can't stop picturing Jenelle wiping so any mention of going to the bathroom is kind of horrifying.)
The baby won't stop screaming, and Chelsea and Cole are trying to figure out what to do to get the kid to be quiet. Two hours later, though, the baby is still crying. Cole finally rocks the creature to sleep but soon it's crying again. Cole says that he's glad to have gotten the practice before the real baby comes.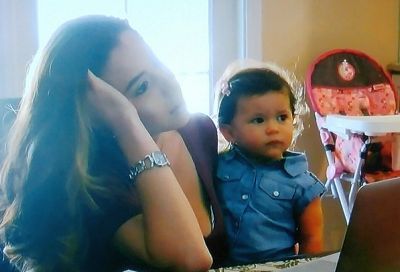 Meanwhile in Delaware, Kail heads over to Jo and Vee's house to talk crap on Javi. Vee is sitting there with her daughter (who looks exactly like Isaac did as a baby, by the way), and asks Kail how things are between her and Javi. When Kail brings up the fact that she and Jo get along so well, Vee decides to be a bit spicy and remind Kail that for the first five or so years of Isaac's life, Kail basically treated Jo like the stuff Jenelle is wiping from her butt.
Kail tells them about Javi's "break-in," and Jo is angered that it scared Isaac. Vee tells them that they're all overreacting, and they shouldn't treat Javi like he was some random dude that was breaking in to steal the family jewels (which are, of course, just a stack of Drake CDs and a gift certificate for Dr. Miami).
"He's going through a divorce!" Vee reminds them of Javi. "You're dealing with a heartbroken-ass dude."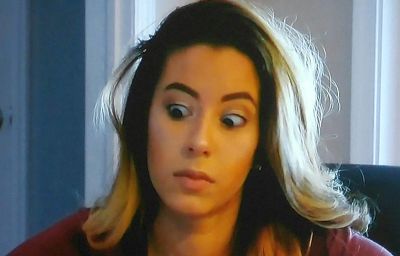 Kail reminds Vee that she and Javi were awful together, and Jo cuts off the conversation. He doesn't care who's mad at who, or who is heartbroken and who isn't; all he wants is for Isaac to not be there to witness Kail and Javi's "Tom and Jerry"-esque shenanigans.
Kail encourages Jo to tell Javi that he can't see Isaac anymore, in hopes that it will "get through to him" and stop his odd behavior.  Jo agrees, while Vee just sits there with a look on her face that says, "Giiiiiirl, you savage!"
After Kail leaves, Vee announces that this is Kail's karma for treating Jo so poorly for so many years. (I mean, must we bring up SweatpantsGate!? #NeverForget)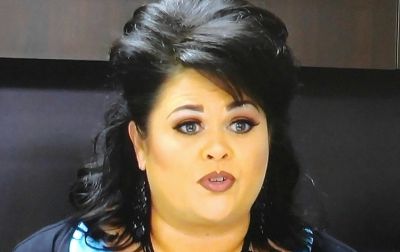 Meanwhile, Leah is at the beauty school. She meets with Catherine, the school's owner, who may or may not be a Roseanne Barr impersonator in her spare time. (Not the 1980s Roseanne; the one from the late 1990s episodes after she had a bunch of plastic surgery and the show got all weird.)
Addie is afraid to go near Catherine, and it's no surprise. Catherine's face is shellacked with so much makeup that she literally looks like she's wearing a mask. She is exactly the person I'd picture who would be running a beauty school in West Virginia that's located next door to a Big K-Mart.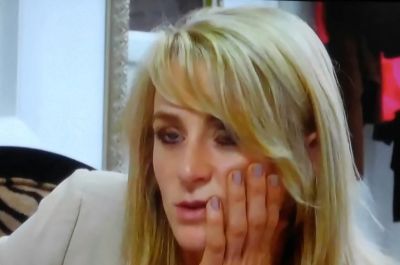 Leah tells Catherine that she wants to come back to school because she's ready to have some ME TIME. Catherine informs her that, in order to complete the program, Leah will have to do 1,800 hours of schooling. Leah looks shocked. (That's basically the equivalent to the time she spent being married to Corey, give or take an hour or two.)
"How many months is that?" Leah asks, with a bewildered look on her face. (She ain't so good at the addin' and whatnot.)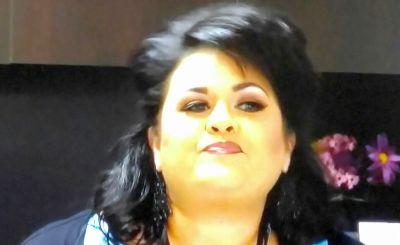 Catherine informs Leah that it would be a little over a year, going Tuesday to Saturday. Leah realizes that she has the youngins Thursdays to Sundays, so that may cause a bit of a time-jumble.
Leah realizes that her dream of beautifying West Virginia, one bleached-out perm at a time, is going to be a lot harder to achieve than she thought.
In North Carolina, it's time for the kid exchange. Jenelle doesn't want to see Nathan or her mother, so she sends Lurch out to switch out the kids. He gives Kaiser to Nathan, and then they go hunting for Barb. She arrives, and Lurch once again is charged with exchanging the offspring.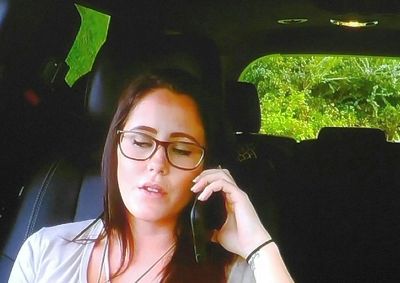 Babs is happy to see that Jace is still in one piece, but she's not happy to see that Jenelle is hiding in the car so that she doesn't have to talk to her "motha." Lurch explains that Jenelle is in the middle of doing some very important "emails" and can't be bothered.
"She's tryin' to type a bunch of stuff up," Lurch bumbles.
Barb isn't buying it. She looks over and see Jenelle trying her best to look like she's very busy typing on her phone. Barb decides that if Jenelle likes "the emails" so much, she'll just go ahead and email her the link to Jace's Popcorn "Fundraisa" (whatever the hell that is).
"People [i.e. 'Teen Mom 2' fans] could buy popcorn frin all ova tha country, and he can win a huge prize!" Barb exclaims.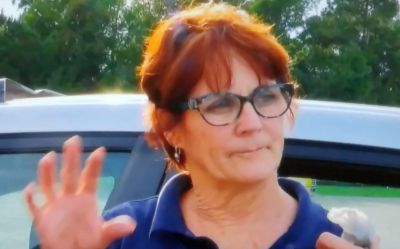 Maybe if Jace's "motha" could work the Popcorn Fundraiser onto her Instagram account (in between her ads for Fit Tea and those creepy waist trainers), Jace could be the Number One Popcorn Seller of all time!
Jenelle, still in the car, calls up Lurch, who's literally standing just a few feet away from her. She's angry that Barb has been given camera time.
"Now you're giving her a whole episode!" Jenelle screams at Lurch. "So thanks!"
Barb protests, claiming she simply wants to spread the word about the Popcorn Fundraisa!
IT'S ALL ABOUT THE POPCORN, GUYS!
Lurch doesn't like the idea of his meal ticket being upset with him, so he sulks over to the car to talk to Jenelle. Barb, too, charges over to the car, determined to tell Jenelle about Jace's popcorn. (She's nothing if not determined!) Jenelle is angry, and tells the producers that she's not filming with Barb anymore.
Perfect! Does that mean we don't have to watch Jenelle anymore, and all the segments can just be about BABS! BABS! BABS!? #DreamComeTrue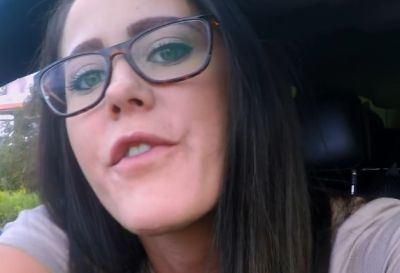 Producer Kristen comes scurrying over, and asks Jenelle if she wants them to stop filming. Jenelle screams that she doesn't want to film with her mother ever, ever again.
NOT EVER! NOT EVER IN HER ENTIRE LIFE!
Babs is ever-persistant, though.
"I wanna just tell ya about the popcorn!" she cackles as she approaches Jenelle in the car.
After Jenelle screams again, Barb says that Jenelle may have just earned herself limited custody with Jace.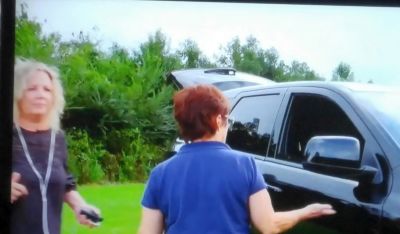 "No one should be nice to my mom!" Jenelle screams as she takes out 100 cameras from her car.
Later, Barb tells Producer Kristen that she wishes she could give Jenelle her son back, but that Jenelle is not ready to raise him (and all the other kids she keeps shooting out).
"Grow the hell up, Jenelle," she said. "I don't want to hear her bulls**t anymore. It's taking eight years to get your frickin' life togetha for him! And now ya mad at me?"
Babs says that she's spent so much time and money, and sacrificed so much for Jace, and Jenelle treats her so badly. Jace hugs his crying grandma, and tries to comfort her. It's a sweet moment.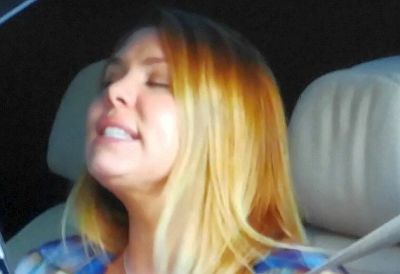 In Delaware, Javi is refusing to allow Kail to pick up Lincoln. She's sitting in his driveway and Javi is demanding that Kail get off his property. Javi is also upset that Isaac is no longer allowed to be alone with him.
"Jo and I don't want Isaac with Javi alone," Kail tells a producer.
Javi comes strolling out of the house, and wants to know why he's no longer allowed to be with Isaac. Kail explains that it was his prowling ways that made her come to this conclusion, but Javi is not buying it.
"You weren't saying that last week when you wanted to go party!" Javi tells Kail.
Ooh. IN.THE.FACE.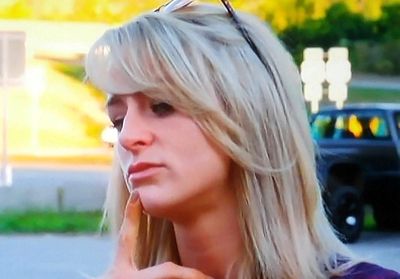 Finally, we check in one last time with Leah. She's still reeling over the fact that the beauty school lady is really going to make her go to school for a whole ding-dang year. (I mean, did she tell them she's on a reality show? Maybe they can give her one of them honorary degrees the colleges give celebrities sometimes?)
She tells the kids that she visited a school, and that she's thinking about getting her learnin' on! The girls encourage Leah to go to school (except for Aleeah, for legit tells her mom she doesn't care what the hell she does). Leah is trying to talk to the girls about her school plans, but they don't want to listen, and aren't being very good filming partners. They just want to play on the gersh-dern swings!
Where the hell is Chasity when you need her!? She is always there to provide a glazed look and a poorly-worded piece of advice!
That's all for this episode. Next week,Chelsea and Cole get married, while Leah gets Chasity to film again so that she can talk to her about her school plans!
To read The Ashley's other 'Teen Mom 2' recaps, click here!
(Photos: MTV)