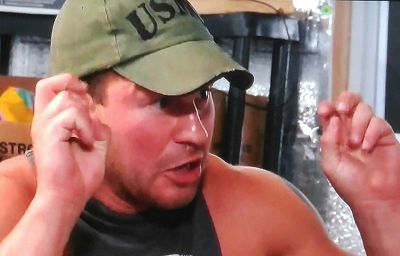 (One of) Jenelle Evans' baby daddies is back in the news once again!
Nathan Griffith, the father of the Teen Mom 2 star's son, Kaiser, has had his fair share of bad press over the years, for things such as an arrest for domestic violence, as well as one for DUI. However, this time Nathan's in the news for making a very poor Snapchatting decision, and his actions just cost him his precious gym membership!
Fans of 'Teen Mom 2' know that Nathan loves to get his gym time on. (According to his now-famous quote from the show, Nathan's gym time is his "me time!") During a recent trip to his local Gold's Gym, Nathan decided to also flex his bullying muscles.
Using Snapchat, Nathan posted a photo of a trainer at the gym, and captioned the photo, "When the trainer is fat than her client with no muscles."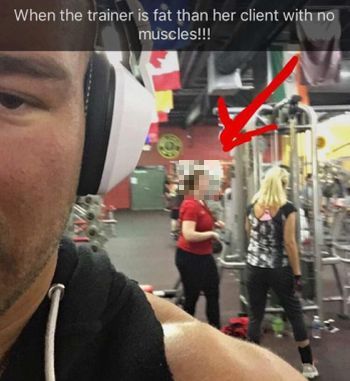 (Nathan was obviously flexin' his "brain muscles" when he wrote that grammatically incorrect caption.)
Many of Nathan's Snapchat followers were appalled by the rude post, and quickly took action. Some particularly sleuthy followers found out which gym Nathan was at and started tweeting the Gold's Gym Twitter account to alert them of Nathan's rude post.
Gold's Gym was not having it. After being bombarded with tweets from concerned fans, the gym released a statement saying they were kicking Nathan out for bullying.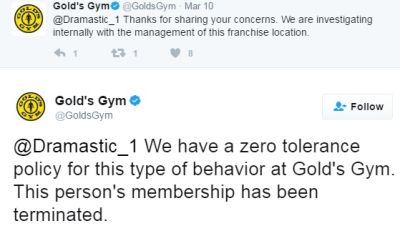 "We have a zero-tolerance policy for this behavior. This person's membership has been terminated," the gym tweeted.
This is somewhat similar to the story of former Playboy Playmate, Dani Mathers, who is currently facing legal repercussions for a 2016 Snapchat she posted that showed a naked  woman changing in her gym locker room. Dani also body-shamed the innocent woman in the caption of the illegal photo.
Moral of the story? When at the gym, worry about your own workout and leave other people alone!
UPDATE: Nathan has offered his thoughts on the incident, and defended his fat-shaming actions in an interview with Real Mr. Housewife.
"I'm sorry, but I wouldn't get jujitsu lessons from someone who didn't do jujitsu or get my hair done by a hair stylist with fu**ed up hair," he stated. "Hence I wouldn't be going to a trainer that didn't practice what they preach. To most people, (they think) I'm the biggest douchebag and I really don't care anymore."
But that wasn't all Nathan had to say on the topic. He added that he did nothing wrong, and that the country is just full of easy-to-offend crybabies (who, like him, are unemployed, apparently).
"The only people who got offended were people who were overweight," he added. "If they have a problem with me making a justified comment then they can go f**k themselves. America is becoming filled with a bunch of non-working lazy ass crybabies and I'm getting sick of it. We are so worried about making everyone feel comfortable that it's f**king up our society."
(Photos: Snapchat, Twitter)