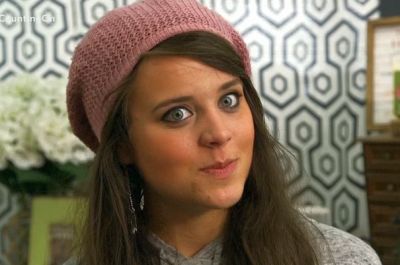 Stop the presses because… a Duggar girl is wearing shorts—in public!
A girl in her early twenties wearing shorts is hardly news…unless of course that girl comes from a family that only permits its female members to wear skirts and dresses. The Duggar family is known for their modest dress and intolerance of pants on females, but it appears that Jinger Duggar is stepping outside her family's strict dress code!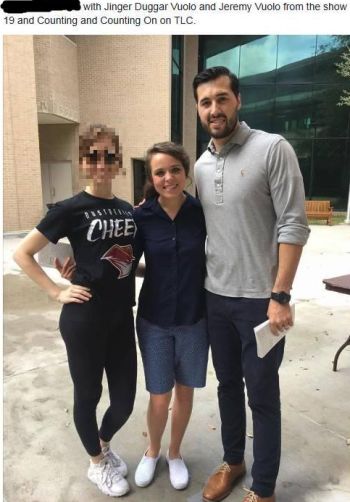 Jinger, who moved from the Duggar Family compound in Arkansas to Texas after marrying Jeremy Vuolo in November, recently sashayed around town in some knee-length shorts and a pair of Keds. The pair posed for a photo with a Counting On fan who didn't seem to realize she was witnessing Duggar fashion history in the making!
A Duggar girl has never been out in public in shorts before. In fact, the Duggar daughters have rarely, if ever, even worn pants in public. Jinger's sisters, Jill Dillard and Jessa Seewald, have each been photographed wearing snow pants while sledding, but this is the first time any of the Duggar gals have veered into shorts territory for no reason except to be fashionable.
Jinger's mother, Michelle Duggar, has been outspoken about why she and the girls dress modestly and only wear skirts and dresses.
"My daughters are the second generation of modest dressing in this family," she has said. "They've grown up being dressed modestly, and in clothes that are definitely more feminine apparel. I've told my daughters this has been a joyful journey for me to learn what my Lord has called me to. I really feel like the Lord is impressing upon me that I should be modest in what I wear. And also, that I really should be defining who I am as a woman by choosing to wear dresses and skirts."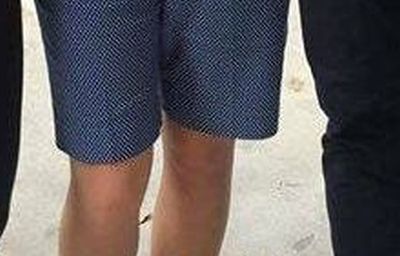 Up until now, the Duggar daughters have strictly adhered to their parents' dress code. In one memorable episode of 19 Kids and Counting, Jill refused to wear a standard firefighter's uniform (that included pants) while working as a volunteer firefighter EMT. She opted, instead, to modify the pants into a skirt. (Jill did wear firefighter pants while around flames, however.)
Both Jessa Seewald and Joy-Anna Duggar have been photographed in the past working out while wearing a skirt over their exercise pants.
Anyway, judging from the ear-to-ear smile on Jeremy's face in the fan photo, he doesn't seem to mind that his wife is bucking her family's fashion guidelines by rocking some printed baggy Bermuda shorts and a lunch-lady-inspired button-down top. She's even wearing—gasp!— a ponytail and not the trademark, Jim-Bob-approved long-flowing curls the Duggar girls are known for.
While Jinger's outfit may be 'risque' (by Duggar standards, anyway), she's still technically within the Duggar modesty rules. They believe that females should keep the area from the neck to the knees covered so there's no "defrauding" going on. (The Duggars define defrauding as "stirring up desires [in men] that cannot be righteously fulfilled.")