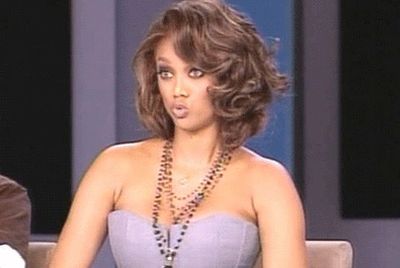 Tyra Banks is probably "smizing" pretty big right about now!
The former America's Next Top Model star was just announced as the new host of America's Got Talent! Tyra will replace the show's longtime host, Nick Cannon, when 'AGT' returns to the air for Season 12 this summer.
"Tyra is the complete package: Out-of-this-world talented, funny, brilliant and all heart," NBC's Paul Telegdy said in a statement released to Entertainment Tonight. "In whatever she has done, she has always connected with audiences around the world."
"[Her] vivacious spirit will infuse 'AGT' in a big way," he added.
Tyra's hiring comes as a shock, given that she wasn't even on the short list of people who were rumored to be in the running for the job. She acknowledged that on Sunday when she announced her new hosting gig.
"Surprise! TyTy is the new host of #AGT @nbcagt! Can't wait 2work w/new fam," she tweeted.
Nick Cannon quit the show last month after NBC threatened to fire him over jokes he made on a recent Showtime comedy special. He took to his Facebook page to explain why he was leaving 'AGT.'
"I find myself in a dark place having to make a decision that I wish I didn't have to, but as a man, an artist, and a voice for my community I will not be silenced, controlled or treated like a piece of property. There is no amount of money worth my dignity or my integrity," he wrote. "I have loved hosting AMERICAS GOT TALENT for the last 8 seasons, watching talented, brave, and courageous Americans accomplish their dreams in front of millions has been nothing but a joy, and everyone has been a pleasure to work with but my soul won't allow me to be in business with corporations that attempt to frown on freedom of speech, censor artists, and question cultural choices."
There's no word if 'Tyra will be finding some way to incorporate the cringe-worthy 'ANTM' staple of "Tyra Mail" into 'America's Got Talent.' However, Tyra's new co-star, Howie Mandel, is already bringing Tyra's other catchphrase into 'AGT.'
"Hi TyTy. I'm HowHow. Teach me how to smize," he jokingly tweeted. (In case you are wondering, 'smize' is a term Tyra coined for when a model "smiles with his or her eyes.")
(Photo: The CW)