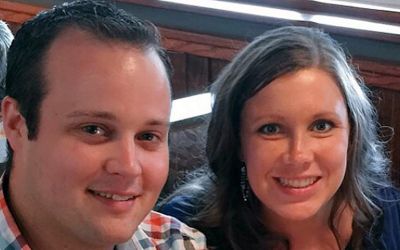 Josh Duggar has been keeping an extra-low profile recently, but the disgraced 19 Kids and Counting star surfaced on Friday to make a big announcement: he's about to become a father— again!
Josh and his wife Anna took to the Duggar Family's website to reveal that Anna is currently pregnant with the couple's fifth child, a boy due sometime this year. 
The Ashley had suspected that Anna may be pregnant, based on a photo of her taken on New Year's Eve 2016 in which she appeared to have a small baby bump. It wasn't until today, though, that the Duggars confirmed the pregnancy.
In their confirmation, Josh and Anna addressed the turmoil in their marriage.
"For nearly the last two years, we have quietly worked to save our marriage, focus on our children, and rebuild our lives together as a family," the couple said in a statement. "Doing so is never easy after a breach of trust. We've learned that a life of faith and rebuilding a life together is simply done one day at a time. As we continue our journey as a family and rebuild our lives, we are delighted to share with you that we are expecting a new baby boy later this year. Beauty comes from ashes and we cannot wait to see and kiss the face of this sweet new boy!"
This pregnancy announcement was much more low-key than those of Josh's sisters, Jill Dillard and Jessa Seewald, who have announced their most-recent pregnancies via videos and social media posts.
While Anna has appeared on the Duggar family's new show Counting On, Josh has not been seen on-camera since 2015, when he was involved in numerous scandals. He was caught cheating on his wife via the website Ashley Madison.com, just months after a bombshell tabloid report revealed that he had molested four of his sisters when he was a teenager.
After the cheating scandal broke, Josh was shuttled off to rehab, but he has been home for almost a year. In that time, he has not made any public appearances, and, although he attended sister Jinger Duggar's November wedding, his face was concealed in the footage that aired during 'Counting On.'
Josh and Anna already have four children:  seven-year-old daughter Mackynzie, five-year-old son Michael, three-year-old Marcus and daughter Meredith, who's nearly two. The couple has chosen to give all of their children names that begin with the letter "M," so it's likely their unborn son will get a name that follows this pattern.
It's probably safe to say "Madison" (as in Ashley Madison) is out as a name possibility for future Duggar girls.
While the Duggar family expressed their happiness about the new "blessing," 'Counting On' fans were less-than-enthused, and many expressed it in the comments below the announcement posting on Facebook.
"How sad for Anna," one person wrote. "She is beautiful inside and out. He is a scumbag."
"I do not get for the life of me how anyone can say they are happy for them," another fan wrote. "I mean, not even the affair but he sexually abused his SISTERS. If he is capable to abuse his blood sisters, I wouldn't trust him with his daughters."
(Photo: Instagram)