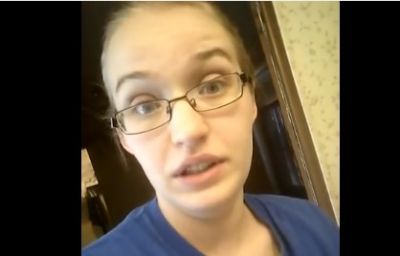 Many reality TV fans are shocked and awed by Mama June Shannon's weight loss journey on her new reality show Mama June: From Not to Hot, but there's one person who is not impressed. June's daughter, Anna Cardwell (who was once known as "Chickadee" during her family's Here Comes Honey Boo Boo days) says that June's "journey" was more about securing a reality show than becoming healthy.
"I think she did it just to be more famous," Anna recently told E! News. 
"I don't think she did it just for her because she never mentioned anything ever before about getting plastic surgery. I think Mama did get herself out there to get another show."
"That's my opinion on that," the 22-year-old continued. "I don't think she did it or anything for herself. If she would have done it for herself, she would have tried to lose the weight a long time ago."
Anna and June have a notably contentious relationship. It all came to a head in 2014, when June was caught spending time with the man who was convicted of molesting Anna when she was a child. The following year, Anna attempted to sue her mother to try to recover over $200,000 Anna said June owed her for appearing on 'Here Comes Honey Boo Boo.'
These days, Anna doesn't have a relationship with her mother or her sisters. She told E! News that she hasn't been in contact with her family for a long time.
"None of them have called me, texted me or anything like that," the mother of two said. "I can give two craps about them. They don't give two craps about me, so why give two craps about them? I mean, yeah, I care about them, they are my sisters … I may not love them like I am supposed to, but I mean, hell, they don't love me or care about me like they are supposed to."
Anna also claims that Mama June now owes her (and Anna's daughter Kaitlyn) nearly $500,000 dollars from past filming, but that she hasn't spoken to her mother since December. Mama June has also not seen her grandchildren– Kaitlyn and Anna's other daughter Kylee—in a long time.
"She claims that she cares and misses Kaitlyn but she can't even check up on her and call her and see how she's doing," Anna told the site.
Mama June may be busy filming her new reality show, and it looks like Anna may soon be doing the same. She expressed interest in getting her own show.
"Everybody wants me to get my own show anyway regardless of getting anything done," Anna added. "I doubt it's going to happen, but it would be nice. Lots [of people have] been asking me about getting my own show with my kids again. [They] tell me that they would watch the show just for me and kids."
Mama June has yet to respond publicly to Anna's statements.
The Anna-less ' Mama June: From Not to Hot' is currently airing on WETv.
(Photo: YouTube)