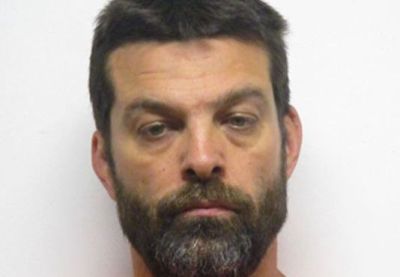 After five postponements, Toby Willis's trial is finally happening.
The Tennessean reports that Toby, who starred on the TLC reality show The Willis Family, was arraigned on four counts of child rape on Monday. Toby pleaded not guilty to all charges. His official plea date will be July 11, with his trial set to begin on July 18.
It's taken a lot to get Toby's trial date set. Since he was arrested in September 2016, Toby's trial has been frequently postponed. In December, Toby's lawyer asked that the trial be postponed so that Toby could undergo a series of psychological tests to see if he was competent to stand trial. It's not known if the psychological tests were completed by Toby in the time since then.
Until his trial begins, Toby will continue to be held in the Cheatham County jail without bond, as he has been since September, when he was arrested for one count of child rape. He is suspected of raping a 9- to 10-year-old girl approximately 12 years ago. The girl is believed to be related to Toby.
Meanwhile, Toby's wife Brenda and 12 children, have stayed silent since Toby's arrest, except to issue a statement in the days right after. In that statement, Brenda made it clear that she was siding with the District Attorney's Office, rather than her own husband. The family's band, The Willis Clan, has not performed since Toby's arrest in September.
Still, some of the family members have been moving on with their lives. In December, Toby's daughter, Jessica Willis, got engaged. She mysteriously left the family band months before Toby's arrest. She has not given any interviews to the media since she left the band.