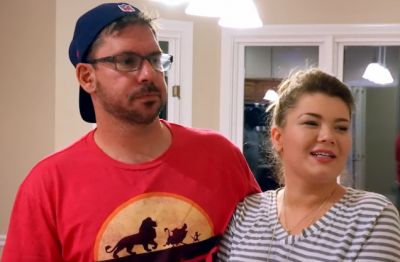 Wedding bells will soon be ringing for yet another Teen Mom cast member!
Amber Portwood recently opened up about her plans to finally get hitched to her longtime fiance, Matt Baier, telling E! News that she and Matt have a wedding date in mind.
"[We're getting married] this October. Ideally October 10 because that was the day we met in person for the first time," she told the site. (Wasn't that the day Matt moved into Amber's house as well?)
As you may recall, Amber and Matt had planned to get married last October, but the media circus that ensued after the discovery of his multiple illegitimate children threw a wrench in their plans and caused Amber to postpone the wedding.
"Everything got thrown on the back burner when that stuff happened," she told People last year. "You'll see us working through certain things together and you'll see us talking about marriage and what we're going to do."
Earlier this year, Amber launched her Be Forever Haute online boutique, and now she plans to design her own wedding dress.
"I'm thinking of something with a late 40's to early 50's style," she told E!
Amber, now 26, will soon add a makeup line to her boutique.
"I started the boutique because I was getting requests from 'Teen Mom' fans all over the world about my outfits and makeup," she said. "Having an online boutique was the best way I could reach everyone."
Matt is, of course, supportive of Amber's business endeavors.
"I'm so proud of Amber's business and, more importantly, how far she's come as a person," he told E! News. "When she sets her mind to something, she exceeds everyone's expectations."
Matt was, no doubt, thrilled to be able to bask in all of the MTV money that Amber has made over the years via her time on 'Teen Mom.' According to Amber, though, she's prepared for the day her reality TV fame comes to an end and those 'Teen Mom' checks stop rolling in.
"I'm a very kind person with a big heart and when 'Teen Mom' is over, it's not going to be the end of my journey, but the beginning," she said.
Amber is not the only 'Teen Mom' girl to use her MTV fame to start her own business. Her rival Farrah Abraham has many endeavors, including a yogurt shop, a children's clothing boutique and a successful line of vibrating butts and vaginas (as you do). Maci Bookout runs a clothing line with her husband Taylor McKinney, and Kail Lowry has launched several online clothing lines.
(Photo: MTV)