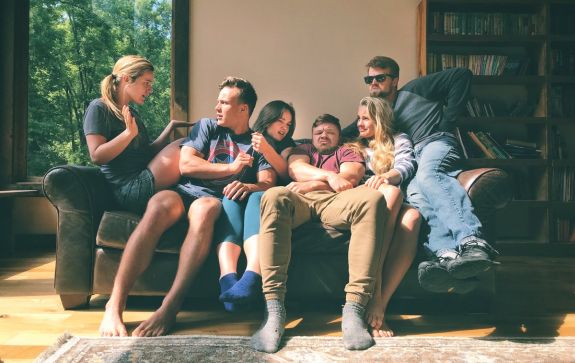 The Willis Family is moving forward in their recovery from the sexual and physical abuse they suffered at the hands of their now-jailed father, Toby Willis. For some members of the family band, that means stepping off the stage.
The Willis Clan– as the family is known professionally– announced in a press release on Wednesday that the youngest members of the family will no longer be performing publicly. 
"Excited to start this new chapter of our musical journey as a six-piece band and see our younger siblings on their respective roads to recovery out of the spotlight!" The Willis Clan posted to their Instagram account.
It's been a year since Toby was sentenced to over 40 years in prison on child rape charges. The family patriarch, who starred with his wife Brenda and their 12 children on the TLC reality show 'The Willis Family,' had been sexually molesting several of his daughters, as well as committing physical and mental abuse against them for years.
Following Toby's initial arrest in September 2016, the family band stopped performing and retreated from the public eye (for the most part). Eldest daughter Jessica Willis had mysteriously left the band months before. In April 2018, she came forward and told her story, detailing the abuse she suffered and revealing why she left the family band. It does not appear that she will rejoin the band, however.
In the press release, the family revealed that the new "family band" will consist of 25-year-old Jeremiah, 23-year-old Jenny, 22-year-old Jeanette (aka "Jet"), 20-year-old Jackson, 18-year-old Jedi and 16-year-old Jasmine.
The newly formed group will release an album called "Speak My Mind" on September 28.
"[It will be] delivering a very personal project with messages of courage, healing and hope," the press release states.
The Willis Clan will also embark on a three-month tour across America. The tour will begin September 7 in Sellersville, Pennsylvania, and end November 18 in Modesto, California.
The Willis girls have been adamant about not letting their past dictate their future.
"You can view yourself as a victim or you can view yourself as a survivor," Jeanette said in an interview with Daily Mail in February. "I choose to view myself as a survivor and go forward to live a beautiful life after all of this."
"I get to live my life and I get to be joyful and I get to be happy," Jennifer said. "Now there's a whole other side of someone seeking forgiveness and redemption and asking for that and that's something my dad is going to have to deal with on his own."
Click here to see all of The Willis Clan's tour dates!
Watch the powerful interview below, in which some of the older Willis kids discuss the abuse they suffered at the hands of their father:
(Photos: Twitter, Instagram)