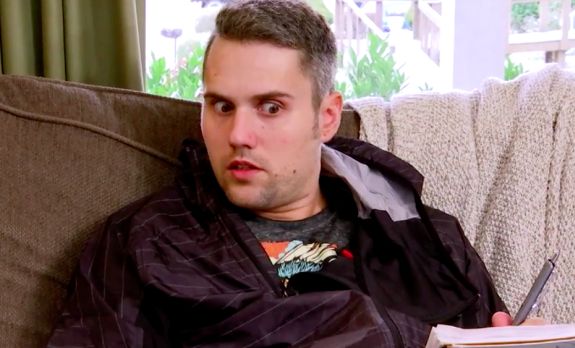 Earlier this week, The Ashley broke the news that Teen Mom OG dad Ryan Edwards was arrested for the second time this year, after breaking his probation for a previous heroin possession charge. According to Hollywood Life, Ryan is facing major jail time, thanks to his latest run-in with the law.
"In Ryan's case I can tell you he is facing up to 11 months and 29 days in jail just on this most-recent charge of simple heroin possession," Nashville criminal attorney Ben Raybin told Hollywood Life. "But that's not all because he has a prior suspended sentence as well as probation that the judge could choose to add to his sentence,."
(Just to note here: Ben is not currently representing Ryan, and The Ashley can not confirm or deny what he is saying is correct, so please file this under "report" for now! The Ashley has reached out to Ryan's attorney asking for confirmation of this information.)
As an attorney, Ben was able to provide more insight into Ryan's confusing charges.
"To break it down, Ryan has the six months of probation he was sentenced to [in March 2018] as well as a suspended sentence of 11 months and 29 days stemming back to his very first arrest [in 2017]," Ben told the site. "He was able to get that sentence suspended but that does not mean it's gone. It's hanging over his head and since he has violated probation, if the judge chooses to he can do what I call un-suspend it. So they could potentially put those things together with the year he is facing on this most-recent arrest."
(According to Radar Online, Ryan was arrested in March after allegedly failing a scheduled drug test in January 2018. The site reported that Ryan tested positive for opiates and morphine in a urine sample.)
Ryan could be looking at serious jail time now, according to Hollywood Life's attorney source.
"Worst case scenario he could actually be looking at two-and-a-half years in jail. I think it's probably unlikely that he would get totally maxed out on all of that," he said.
This could result in Ryan missing the birth of his second child, as his pregnant wife Mackenzie told a follower on Instagram five days ago that she still has "10ish weeks to go" in her pregnancy.
Ryan has been sitting in the Hamilton County jail since Monday, and currently, he is being held without bond. (Wanna see his newest mugshot? Click here!)
A spokesperson for the jail told The Ashley that Ryan will remain behind bars at least until August 6, which is when his court date has been set for.
Ryan's latest arrest came just days after he and Mackenzie declared that they were no longer going to be on 'Teen Mom OG.' (The Ashley told you what really went down behind-the-scenes to cause the couple to be ousted!) That same day, Ryan took to social media to declare that he was drug-free, and that MTV didn't want to show him sober.
"They don't want to show me or Mack in a happy light or that I am active in my recovery. I AM," Ryan wrote.
Mackenzie, as well as Ryan's parents Jen and Larry Edwards, have remained silent since Ryan's arrest and have not commented publicly on his legal troubles.
Ryan's attorney has not yet responded to The Ashley's request for comment.
(Photos: MTV, Instagram)