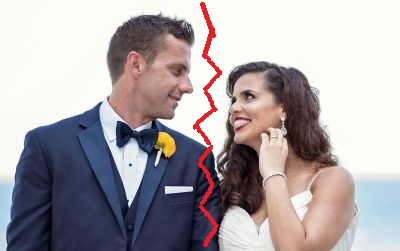 It's a sad day for Married at First Sight fans.
Sonia Granados and Nick Pendergrast, one of the successful couples from the show's fourth season, announced on Wednesday that they've decided to file for divorce.
Sonia and Nick, who got hitched during the show's Miami-based season last year, released a joint statement via their social media accounts to break the divorce news to fans.
"We are sad to share that after almost a year of marriage we have decided to separate and file for divorce," the statement read. "Thank you in advance for your love and support through this difficult time! We look forward to growing and continuing to learn about ourselves from what we still consider to be a meaningful experience with 'MAFS.'"
It appears that the couple is still on good terms, as Sonia assured fans in a follow-up tweet that, although she and Nick are divorcing, theirs is "still a love story."
Although they struggled in the first months of their marriage, due to Nick's lack of attraction to his wife and their inability to communicate well with each other, they eventually repaired their relationship.
Sonia and Nick were one of the few couples from the show's four seasons that opted to stay married at the end of their season. Of the 12 couples who have appeared on 'Married at First Sight' to date, only three are still currently married: Season 1's Cortney Hendrix and Jason Carrion; Season 1's Jamie Otis and Doug Hehner; and Season 4's Lillian Vilchez and Tom Wilson.
'Married at First Sight' Season 5 will air later this year.