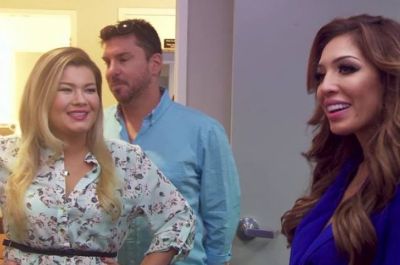 Has a truce been called within the Teen Mom OG cast? It appears so, judging from Amber Portwood's latest interview with People.
The 'Teen Mom OG' star told the magazine that she and her fiancé, Matt Baier, are planning on sending wedding invitations to all of the people associated with the 'Teen Mom' franchise…even her arch rival, Farrah Abraham.
"Every single 'Teen Mom' star will be invited," she said in regard to her October 8 wedding. "Every single one from Teen Mom 2 and 'Teen Mom: OG.'
Farrah and Amber haven't always had the best relationship. In what may go down in 'Teen Mom' history as the most epic cast fight ever, Farrah and her sorta-boyfriend Simon Saran accused Matt of being a pedophile, which resulted in a physical brawl between Amber and Farrah and Matt and Farrah's father, Michael Abraham.
Months after the epic fight, however, it looks like Amber is moving past it and focusing on the positive. She said that although she is stressed about the wedding, she is still trying to stay calm.
"I don't know if I feel frantic or anything," she said. "I'm kind of scared–not for any particular reason- just the fact that I'm getting married. We are on time and we pretty much know exactly what we want to do. We're just trying to stay level-headed, because there's just a lot going on right now."
Matt, who has been married at least twice before, is very excited to walk down the aisle again, according to Amber.
"Matt is completely into it [planning the wedding], even more than me," Amber told People. He is writing down the guest list and we already have 200 people on it, I don't even know 50 of them!"
Amber said that, although it's been a crazy ride, she is happy with where she ended up.
"The one thing to always remember, is that the reality world is a gamble; you never know when it's going to end and I feel like I am really blessed with what I have today," she said. "I am going to use all my resources to make sure that my life and family's life is going to be blessed even with all the bumps in the road."
So, will Farrah attend the wedding?
As soon as the news broke, Farrah's on-again-off-again boyfriend, Simon went straight to Radar Online to give his opinion on the topic. He said that he if he is invited to Amber and Matt's wedding, he will attend with Farrah…but of course he had to throw a dig in there.
"I haven't been to a circus in a while, it could be fun," he said.
'Teen Mom OG' viewers will surely get to see all this drama play out on the show's next season, which premieres next month.