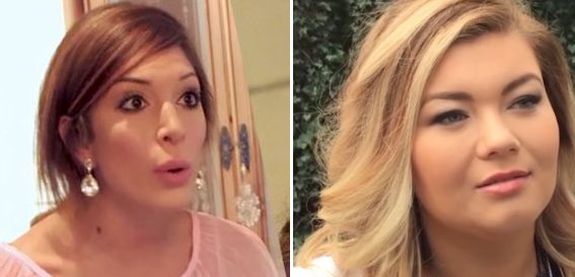 Let's get ready to ruuuuuumble! It's time for the Battle of the Teen Moms, Round 346!
Amber Portwood took a shot at her Teen Mom OG (and arch rival) Farrah Abraham yesterday during an interview with People magazine. Amber, who, along with Catelynn Lowell, was doing media to promote the upcoming new season of 'Teen Mom OG,' held nothing back when she was asked for her thoughts on Farrah, whom she has been feuding with since last year.
"I do not want kids today who are watching the show to think that [Farrah] is a strong woman," Amber told the magazine. "That is not a strong woman. That is a hateful woman. That is not what you want to be like."
Amber and Farrah's years-long, on-and-off feud came to a head last year during their infamous brawl during the taping of the most-recent 'Teen Mom OG' Reunion. Since then, the girls have traded digs via social media and the press.
"She's just not a person that I want to attach myself with," Amber said.
Amber recently stated that she was planning to invite all of her 'Teen Mom' franchise co-stars to her October wedding. When Farrah heard that, she lashed out at Amber in the press.
"They lie and they need to stop using me to get attention for their wedding and [Matt Baier]'s book," Farrah told Radar Online. "I want nothing to do with their criminal behavior or lying evil groups of people they associate with. I'm happy both the scam artists can be a happily married criminal couple."
Amber says she's not exactly all broken up about Farrah declining her wedding invitation offer. In fact, Amber told People that Farrah and Simon "were never quite invited" to the shindig after all.
Finally, when asked to use one word to describe Farrah, Amber chose "sadness."
"She's trying to be something that she's not," Amber said.
Farrah will surely be firing her own catty comments back at Amber after she reads the interview. Stay tuned!
(Photos: MTV)