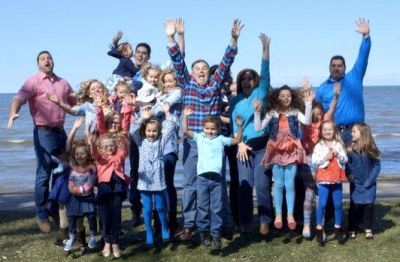 TLC has some good news for its fans who love reality shows about super-sized families: Meet the Putmans, a special the network aired in January, has been picked up for a full season!
The show, which will premiere this fall, focuses on a family of 25 who all live under one roof. All four adult Putman kids live at home with their parents in a 6,000-square foot house, along with their spouses and children. The family's unique dynamic helped them move from having a one-time special to a full series.
Eldest Putman son Billy said as their families started to grow, they thought about moving out of mom and dad's house, but ultimately decided to stay put.
"We all sat down and said, 'Do we really want to continue doing this?'" he told MLive in January. "We ultimately decided that we're having a lot of fun. We voted and it was unanimous."
There are a total of 15 children living in the house: 33-year-old Billy and his wife Jennifer have four daughters (Isabelle, Abigail, Addison and Gabby). Brandon, 30, and his wife Kacie have five daughters (Emma, Bella, Mya, Nova and Gia). Blake, 28, and his wife Megan have three daughters and a son (Mercy, Lulu and Alena and Noah). Daughter Blair, 26, and her husband Jamie have two sons (Jonah and Eli).
The Putmans lived in a 6,000-square-foot house during the special, but are in the process of building a 34,000-square-foot house in Michigan. Much of the show's first season will center on the building of the house.
The show will also deal with the issue of Blair and Jamie moving out. In the show's pilot, Jamie, who is a resident doctor, talked about how he hated the commute to his job. The drive was an hour and 15 minutes one way and Jamie said some days he's so tired, he doesn't even remember the drive home.
Blair agrees that the move will be great for her family but she worried how her family would react. She said in the pilot that if they moved out it would "break Dad's heart."  In the pilot, family eventually agreed to let them move out. (Yes, they had to ask permission.)
Yikes.
"I give you my blessing," Patriarch Bill Putman told them. "But when the residency is over, I expect you to come home."
Again, yikes.
Since the pilot was filmed, Jamie and Blair have moved out to be closer to Jamie's work. We will also see that Grandbaby #16 is due in a few weeks. They're gonna need all 34,000 square feet of that new house for these people!
'Meet the Putmans' Season 1 premieres sometime this fall on TLC.
(Photo: TLC)