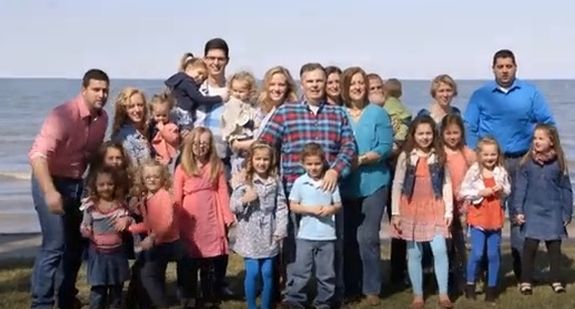 Move over Duggars! Here comes the Putman Family!
Jim Bob & Co. will need to make some room for the newest extra-large family coming to TLC. The network has announced that its newest reality show focuses on a family of 25 people, all living under one roof.
In Meet the Putmans, which premieres tonight on TLC, viewers will get to know Bill and Barb Putman, a married couple from Michigan with four adult children, all of whom still live with their parents. When the kids got married, they moved their spouses into the family home, and continued to raise their growing families there.
"Imagine being part of a family where no one leaves home," Barb says in a trailer for the special.
The family, which consists of 10 adults (Barb and Bill, their four children and their spouses) and 15 children. According to the TLC press release for the special, the Putmans all live as one large family unit, rather than individual families, and pool all of their finances.
"With one house, only two bathrooms and one bank account and one set of rules, there's always drama," Barb says in the trailer.
The trailer does not reveal why the adult children and their families have chosen to continue to live with their parents and siblings, but the family does say that they are not a cult, and that no one has forced them to stay home and live this way. It appears that the Putman adults take a vote to decide things for the household.
"Each episode will not only detail the little things that test this family of 25, but also highlight those extreme 'for better or worse' moments they experience as both couples and a family," the press release for the show reads.
Of course, the Putmans aren't the first supersized family to get a reality show on TLC. This is the same network that introduced us to the Duggars, as well as the polygamous Brown family from Sister Wives. The network also once aired The Willis Family, a show about a large family band from Nashville, but that show has since been cancelled.
'Meet the Putmans' premieres tonight on TLC.
Watch the trailer for 'Meet the Putmans' below!
(Photo: TLC)