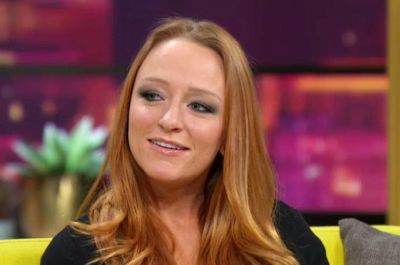 Another day, another Teen Mom book!
Maci Bookout announced today that she has written a sequel to her 2016 book, Bulletproof. Maci's second book, I Wasn't Born Bulletproof (Lessons I've Learned So You Don't Have To) is set to be released on June 27! 
(Of course, technically, this could be considered Maci's third book, as she did release a coloring book of her wedding photos last year but…let's not talk about that.)
While Maci's first book was the story of her life and teen pregnancy, this new book will apparently be more of an advice book.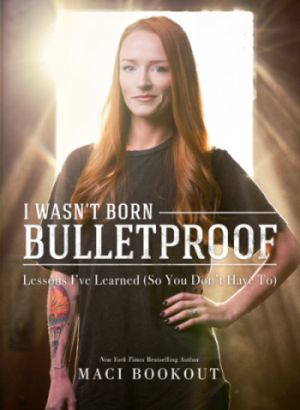 According to Amazon (which currently has the book available for pre-order), the book "offers down-to-earth, practical advice on how to navigate life, love, and everything in between."
"In I Wasn't Born Bulletproof, bestselling author Maci shares with readers the truth behind her Teflon exterior and offers fun, inspirational advice for everyone," the description reads.
"As she traveled across the country, speaking to young people and sharing her inspiring story, the one comment Maci kept hearing over and over was, 'You're so strong. You make it all look so easy.' But Maci was not born 'bulletproof.' She taught herself to be strong despite her struggles and to turn adversity into advantages."
Maci is the second 'Teen Mom' to write an "advice" book. Teen Mom 2 star Kail Lowry recently released her second book Hustle & Heart, which also gives the shows' fans life advice.
The cover of Maci's new book features a picture of her (dressed in her "Things That Matter" finest, naturally) with a slight smirk on her face, ready to impart all her knowledge upon the show's young fan base…or something.
The hardcover book contains 160 pages and is being published by the 'Teen Mom' crew's trusty publisher, Post Hill Press.
Maci's book will be just one of three 'Teen Mom' books that will be released this summer. Her 'Teen Mom OG' co-star Matt Baier is due to release his (highly controversial) book on June 6, while 'Teen Mom 2' star Jenelle Evans will release her memoir on July 25.
If you'd like to learn more about what the 'Teen Mom' stars can and cannot write about it their books, click here!
If you'd like to pre-order Maci's new book, The Ashley has provided a link below for you to do so!
(Photos: MTV, Post Hill Press)