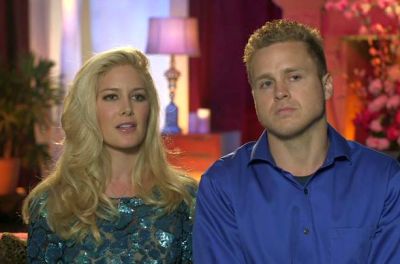 There's a "Speidi" baby on the way!
Spencer Pratt and Heidi Montag announced today that they are expecting their first child. The former stars of The Hills, who have been married for eight years, say they have wanted a baby for a while, but decided to wait until now to procreate.
"I wanted a baby three years ago. Spencer was a little hesitant," Heidi told Us Weekly. "Then one thing after another came up. We had work obligations, like Celebrity Big Brother in the U.K., which I did not want to be pregnant for. I'm actually really thankful we waited. I thought I was ready in my twenties, but with everything we had going on, it just wouldn't have been a good situation for us."
For years, Heidi and Spencer made sure they were in the center of a media tornado. The pair had been known to call the paparazzi on themselves, stage ridiculous holiday-themed photo shoots for magazines (Who could forget this cringe-worthy moment in time?)  and spend money on ridiculous things. The pair eventually went broke, and faded into the background, but still did the occasional reality show.
(Apparently, they still call the paparazzi and stage ridiculous photo shoots, though, as evident in these photos from the Us Weekly story!)
"We're older, we have more life experience. Nothing is holding us back," Heidi told Us Weekly.
According to the magazine, Heidi is currently 12 weeks along in her pregnancy and due October 19. She and Spencer are just the latest in a line of former stars of 'The Hills' to get pregnant, or have a baby. Lauren Conrad is currently pregnant with her first child, as is Whitney Port. Jason Wahler and his wife are also expecting their first child. Audrina Patridge welcomed her first child– daughter Kirra– last year.
(Photo: WEtv)