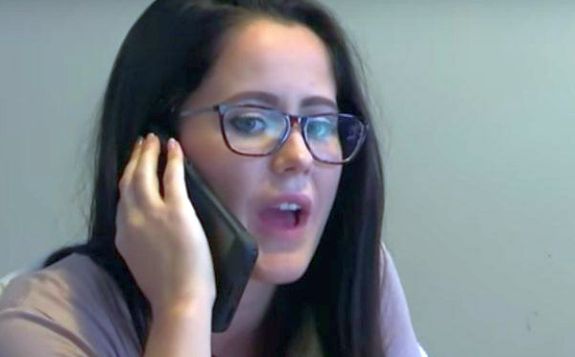 The stars of the Teen Mom franchise keep the drama level high– even on the weekends! You may have been out living it up (or eating generic-brand pizza rolls on your couch, while watching a marathon of Dateline on NBC) over the past few days, so it's likely you may have missed some of the 'Teen Mom' stories that broke this weekend.
In an effort to bring you up-to-date on all of the weekend's 'Teen Mom' happenings, The Ashley brings you the "Monday Teen Mom News Pile!"
Here are all the major (and minor but interesting) Teen Mom OG and Teen Mom 2 things that happened over the last weekend…
Jenelle Evans basically started a rumor about Kail Lowry giving up her baby.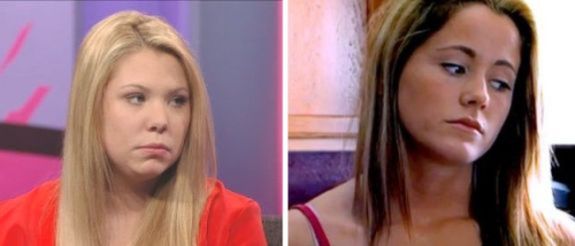 Well, Juh-nelle….we see ya startin' rumors about ya co-stars again!
Jenelle managed to majorly piss off her 'Teen Mom 2' co-star, Kail, over the weekend after her official Facebook fan page posted a story with the headline, "BREAKING! Kail Not Keeping Her Baby!" In addition, the fanpage added a comment that said, "It's so hard to say goodbye."
The link took fans to one of several click-bait sites that Jenelle uses to make money off of. (For the record Jenelle makes A TON OF MONEY off this every month!) Although the article's headline and caption made it seem like Kail wasn't keeping the baby she's currently pregnant, once the article was opened up, fans realized that it was actually about the BMW Kail tweeted that she has to give up. Kail once referred to the car as "her baby."
Naturally Kail was angry when she found out what Jenelle's fanpage had posted, so she took to Twitter to set the record straight.
"Whoever decided to twist my words and say I'm not keeping my baby is a f**ked up individual," Kail tweeted. "I'd really love if things I'm quoted saying in interviews aren't copied and pasted into click-bate articles for bulls**t publications. But then again, it's on the internet, it MUST be true."
This is not the first time Jenelle has angered her 'Teen Mom' co-stars with her 'articles.' She recently posted one that stated that Chelsea Houska's marriage to Cole DeBoer is in trouble (it's not), and one that says that Leah Messer is dating John Gotti's grandson. (She's not.)
Jenelle defended herself by saying that, just because the post about Kail was made from her verified Facebook fan page, it wasn't her behind it.
"Just to throw this out there," Jenelle tweeted. "I don't write any articles on my pages that are shared or posted about the other Teen Mom ladies. #JustSayin"
Farrah Abraham and Simon Saran were thick as thieves on vacation in Florida.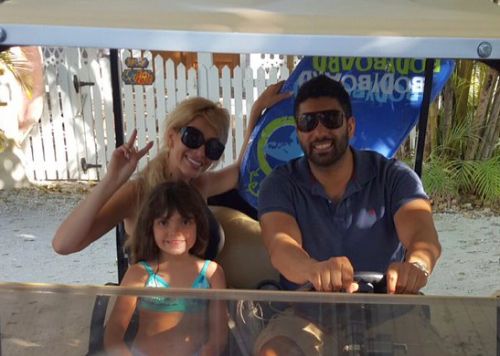 Farrah and Simon recently told every news outlet that would talk to them that they had split, but the 'Teen Mom OG' couple seemed very much together during their vacation to Key West, Florida, this weekend. Both made sure to post plenty of photos on social media that showed them together. Sophia was also on the trip, and 'Teen Mom OG' cameras were surely along for the ride as well.
In the posted photos and videos, Farrah and Simon actually seem rather happy. Even Sophia appears to be having a good time. Simon did, however, caption one photo of him hugging Farrah with "Best friend" in hopes that will keep fans guessing about the status of their relationship.
Matt Baier got in trouble with MTV over his book.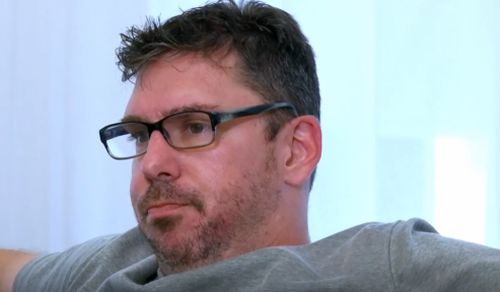 Amber Portwood's fiance, Matt, is due to release his tell-all book in June, but it will be 20 percent shorter than it originally would have been. A new report circulated this weekend stating that MTV execs got hold of Matt's book copy and forced him to cut out about 15,000 words. Due to his contract, Matt has to comply with the network's demands.
To get more info on this, click here!
Nathan Griffith posted a terrifying video.
Last three weeks #thestruggleisreal pic.twitter.com/lmErjKEMfW

— Nathan J. Griffith (@GroundLevelUp) April 10, 2017
On Sunday, Nathan showed off some horrific dance moves in a video posted to his Twitter account. Wearing no shirt (naturally), Nathan pelvic-thrusted his way through a portion of Gloria Gaynor's song "I Will Survive." At one point, he grabs his own junk and lip syncs the lyric, "I've got all my love to give."
That should sufficiently haunt your nightmares until next week's "News Pile." Enjoy your week!
To read last week's 'Teen Mom' News Pile, click here!
(Photos: Twitter, MTV)