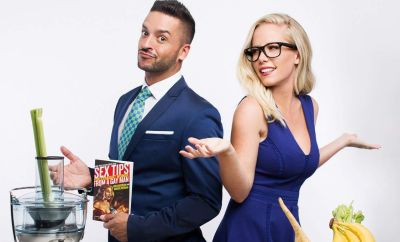 Kendra Wilkinson has a new gig— and surprisingly it's not starring on yet another terrible reality TV show!
Kendra is moving from the small screen to the stage. The former Playboy model announced this week that she will be starring in a Vegas show about having better sex.
"I am going to play a lead role in a play called Sex Tips for Straight Women from a Gay Man," Kendra recently told E! News. "Being a lead role in a play in Las Vegas? Like, come on! How much bigger can it get?"
The play, based on the novel of the same name, is described as "titillating, taboo, and wildly scandalous." The "gay man" in question is Queer Eye for the Straight Guy alum Jai Rodriguez who will star alongside Kendra in the show.
Please tell us that Kendra's wacky mother (and arch rival) "Party" Patti Wilkinson is going to somehow sneak into the act?!
"'Sex Tips for Straight Women from a Gay Man' takes audiences on a laugh out loud hilarious and wild ride where no topic is taboo and the insider tips come straight from the source: a gay man," the show's website states. "The star-studded production combines comedy, charisma, and a lot of sass to create a memorable evening perfect for everyone from couples looking to spice up their routines to groups interested in a girls' – or guys' – or couples' night out."
The show will run for only 12 weeks this summer at the Paris Hotel in Las Vegas. There's no word yet if Kendra will be incorporating her singing and acting abilities into the act. ('Member her weird Martian music video? Even Las Vegas isn't ready to see that live!)
The show will run every night except for Wednesday in Las Vegas starting May 27. A seat will cost you around $39, but if you'd like to go VIP and meet Kendra and Jai beforehand, it will run you about $100.
If you aren't able to scurry over to Vegas to watch Kendra live on stage, you can still catch her doing what she does best–appearing on ridiculous reality TV shows– when she and her mother Patti star on Marriage Boot Camp: Reality Stars Family Edition, which premieres next week.
Watch a commercial clip for Kendra's Vegas show below:
What better way to celebrate my 20th year as a working actor than staring opposite @KendraWilkinson this summer in this hilarious play!! pic.twitter.com/ZUK4N98TEm

— Jai Rodriguez (@jairodriguez) April 20, 2017
(Photo: Caesars)