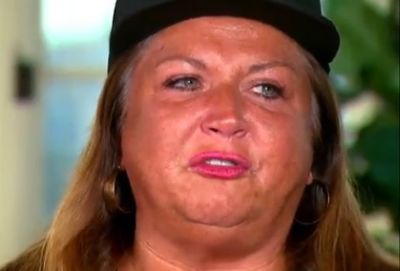 Abby Lee Miller sashayed into the operating room on Friday afternoon to have a surgery to help her lose weight!
The former Dance Moms star underwent a sleeve gastrectomy, a surgery that, according to Entertainment Tonight, removed nearly 80 percent of Abby's stomach!
Although Abby is no longer filming for 'Dance Moms,' she certainly isn't camera shy! The reality star allowed ET to come into the operating room with her and film her getting drugged up and put to sleep for the surgery. (If you have a surgery and you don't have a entertainment news show there to document it, did it even happen?)
In an interview with ET before going into the operating room, Abby Lee cries because she feels that no one would care if something should go wrong in the operating room.
"There's nobody freaking out if something happens to me!" she says. "I'm scared. I'm nervous."
Abby is not married and does not have any children of her own. She has stated that she has lost a lot of her friends in the last year or so, which may be the reason she is feeling alone.
The 50-year-old reality star has had a lot of negative press over the past year or so. Last month, it was announced that Dancing with the Stars vet Cheryl Burke would be replacing Abby on the next season of 'Dance Moms.' In addition, Abby was indicted on 20 counts of fraud in October 2015. She plead guilty to the charges in June of 2016 and is set to be sentenced for her crimes on May 8.
"I'm scared to death," she said during an interview in September. "My support system used to be the moms on 'Dance Moms,' but not anymore."
Monday's episode of Entertainment Tonight will feature more of Abby's interview and presumably more clips from inside the operating room. (Let's hope they spare us the gory footage of the actual surgery!)
Click here to watch the sneak peek clip of the segment on Abby Lee's surgery.
(Photo: Entertainment Tonight)