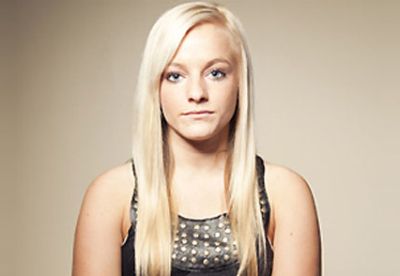 MTV is rebooting its controversial reality show 16 and Pregnant, and, while casting is currently underway, one of the show's former participants is advising teen girls not to apply to be on the show.
Mackenzie McKee, who starred on the fourth season of '16 and Pregnant,' recently spoke to The Dirty about the show, revealing that she thinks girls will try to get pregnant in hopes of obtaining MTV reality show fame. 
"The show was created to show viewers the struggle of what it is to become a mother at a young age, what you miss out on, and sacrifices you must make to raise your child," she said. "I do not think MTV should continue to find new teen moms and show the world they are casting so some 16-year-old could possibly purposely get pregnant for a shot of fame."
The girls from '16 and Pregnant' who went on to star on the Teen Mom shows are now celebrities, but Mackenzie reminds fans that those girls did not do '16 and Pregnant' with the expectation of becoming so famous.
"The ladies whom are on 'Teen Mom' did not get pregnant for fame," she said. "They had no clue at the time how far with TV they would come. But they do boldly shared their stories to show others what a struggle it is."
Mackenzie has managed to squeeze out as much fame as possible from her appearance on '16 and Pregnant' and the short-lived Teen Mom 3. (She was incredibly upset that she was not chosen to be added to Teen Mom 2 like her pal, Briana DeJesus.)
Still, she states that the "fame" the girls get from being on '16 and Pregnant' is not worth getting pregnant over.
"It's not what it's cracked out to be," she said. "MTV is a short time in your life and a baby is forever. I spent my whole life cheering thinking I was going to go to the best of the best college with the best cheer squad and chase my dreams of becoming a coach. That dream took a turn and so did my life."
Mackenzie, who is now the mother of three young children, advised teen girls to stay off MTV– and stay out of their boyfriend's bedroom.
"If I had a message to send out to young girls the age of 16, it would be to respect yourself more," she said. "Don't cause an emotional attachment by having sex with someone at that age. You're too young for a heart break like that. If a man loves you, he will wait for you…don't expect him to stay because a baby is involved.
"I hate looking back knowing I was sexually active at the age 16 and I pray everyday my daughter doesn't live the way I was," she added.
The Ashley will have more information on the upcoming season of '16 and Pregnant' soon!
To find out what's become of some of the other '16 and Pregnant' stars since they appeared on the show, click here!
(Photo: MTV)