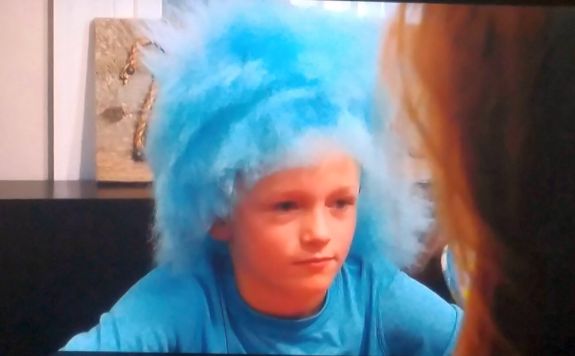 Ahoy, kids! The Teen Mom OG Ship of Broken Dreams is about to set sail for yet another season! The whole gang is back– including Farrah Abraham (and her "Anti-Christ attitude"), Amber Portwood (who realized that if she quit 'Teen Mom' like she said she was going to, she'd have to figure out another way to pay off all her fiance's baby mamas), Maci Bookout (and her never-ending supply of leather-pocketed T-shirts), and Catelynn Lowell (who has hopefully washed that damn zebra hoodie at least once since last season!)
Let's begin, shall we?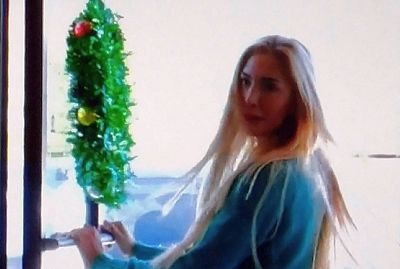 The episode kicks off in Texas, where Farrah is bustling around her about-to-be-opened children's clothing boutique, and, surprisingly, she's treating her employees almost like human beings. (I mean, they're still peasants to Farrah, of course, though.)
Farrah has to head out early to pick up Sophia, who has a photo shoot scheduled that afternoon…just like any seven-year-old does!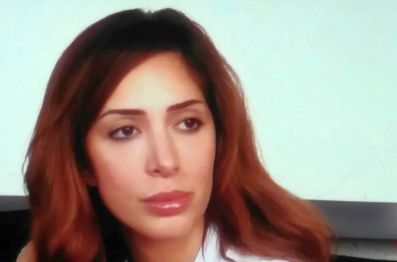 Farrah tells us that she and her sometimes-boyfriend Simon are "still on a break," and she and her mother Debra are still spending the majority of their time together screaming at one another. (Of course, Deb couldn't care less– she's got her budding rap career to worry about, after all!)
Farrah arrives at Casa de Backdoor, where Sophia's grandpa, Jerry, and Deb are waiting for her. Sophia will be doing a photo shoot, modeling kids' clothes and shoes from her store. (Of course, she will only be wearing whatever frocks she is able to wrestle away from Deb!)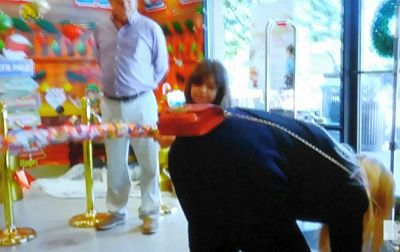 The whole gang heads to the store for the photo shoot. Before any photos can be taken though, Sophia proceeds to beat the beJesus out of Debra, wacking her in her skintight-jeggings-covered legs with a roll of wrapping paper. (As you do.)
Farrah tells Debra that "ain't nobody got time" for the kid to act like a kid. She hustles Sophia into her "glamorous star dressing room" (aka the bathroom) to change, while Debra looks envious, thinking of all the cool clothes Sophia will get to wear.
Sophia is surrounded in a pile of creepy Froco dolls, and the whole scene is kind of enough to haunt our nightmares…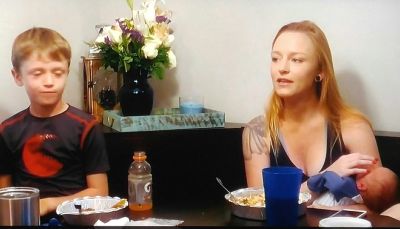 Speaking of haunted nightmares, it's almost Halloween over in Tennessee. Maci and Taylor are hanging out with their bushel of oopsie babies. It takes exactly seven seconds for the real star of Maci's scenes– Bud Light– to make an appearance on-screen, and for Maci to start bitching about how hard her life is, now that she has three "miracle babies" to contend with.
Maci is preparing to take her litter trick-or-treating, and is fully expecting Ryan to crap out on the festivities as he does every year. Maci is changing things up this year, though. Instead of carting the kids over and mooching candy from Ryan's parents' neighbors, she's taking the kids around her own neighborhood and inviting Jen and Larry, as well as Ryan (and his ever-bulbous eyes).
"I'm not gonna spend my night waiting on Ryan and wondering where he is!" Maci declares.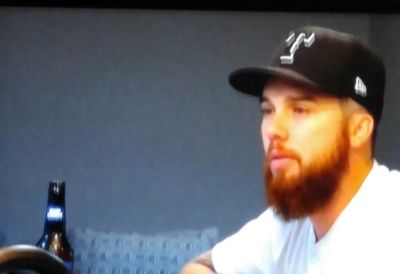 Meanwhile, Taylor is focusing on other problems. He only has a few days to figure out how to stuff enough beers into one of those plastic pumpkins to last him the whole two hours he's taking the kids out trick-or-treating.
Over in Indiana, Amber's got problems too. She's opening an online fashion boutique, but she's having trouble pronouncing the name she's chosen for the shop. "Forever Haute," she says, explaining to her neighbor that's it's "like, French" and that it means high fashion…or something.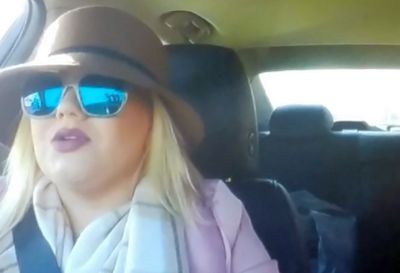 Amber is having a hard time focusing on her life goal of bringing haute clothing to the masses because she's having tooth pain. Amber, who is, for some reason, all dressed up like she's about to work the Jungle Cruise ride at Disneyland, tells Matt that Tylenol can only help her pain so much.
(You may remember that Amber has a history of getting HIGH! HIGH! on painkillers, so she has to "just say no" to pain meds.)
Amber has downed so many Tylenol that she's ready to yak. She tells Producer Kerthy that she has to throw up, then proceeds to instruct the poor lady to get up close and look in her mouth.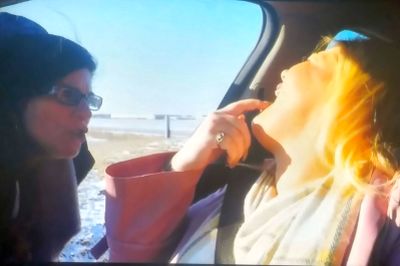 Kerthy gets a gander inside Amber's rotting pie-hole, and is shocked. She tells Amber to go to the dentist, but Amber's scared that the dentist will yank her tooth out and give her pain pills.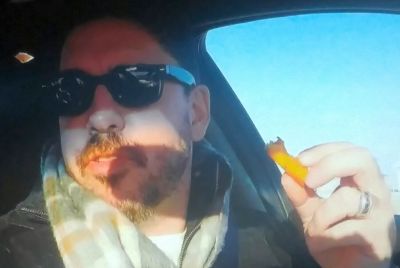 Matt is also concerned. As he smacks down a box of greasy chicken tenders, he encourages Amber to go home so she can yak in the privacy of her own home. (To be fair, I feel like I'm gonna yak myself after watching Matt eat that chicken!)
Finally, we check in with Catelynn (aka the one we always forget is on this show.) She and Tyler are trying to teach their daughter Nova to crap in the living room, and she's struggling with the whole "potty training" thing.
Nova's potty isn't the only thing that's crappy in the Baltierra household, though. Catelynn tells us that she and Tyler had a rough first year of marriage, and she's worried about their relationship.
Naturally, Cate and Ty's best solution to having a crappy household is…to buy a new house, of course! They've been fixing up their new house and are about to move in.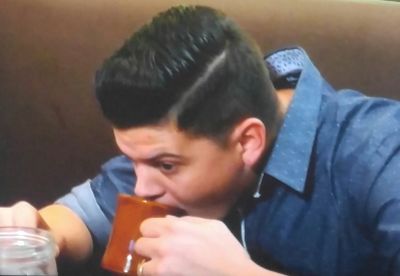 Unfortunately, our favorite "non-juicehead" felon, Butch, is back in the slammer, after missing a parole meeting. Cate and Ty won't elaborate on what else happened that caused Butchy to be sent back to the clink, but they do tell some random producer that Butch actually called them up and asked them to refrain from blabbing about his personal issues on the show.
Tyler is used to Butch returning to his criminal way, so he's not really surprised. Catelynn tells Ty that their new house "is like a fresh new start," and that they can leave all the negativity back at their old place. (Wait…there's still gonna be a Butch Room at the new house though, right? Right?! They're not gonna make him live in a creepy camper in the driveway again, are they?)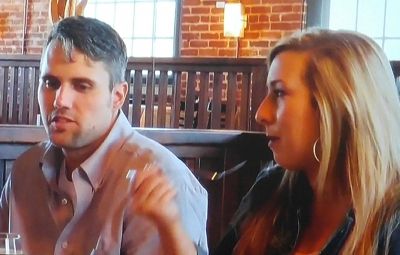 Back in Tennessee, a sleepy-eyed Ryan is lunching with his parents and girlfriend Mackenzie. They're chit-chatting about Maci's recent wedding, and it's all fun and everything…until Ryan randomly mentions that he's been dreaming about Maci lately.
When he says that, Mackenzie looks like she's about to choke on her fettuccine Alfredo and/or choke Ryan for saying something like that on camera).
He tells everyone that he was dreaming of Maci wearing a different dress, one that he imagined for her (like for his own wedding to her? Awkward…) Ryan says he had imagined Maci in a big, white dress.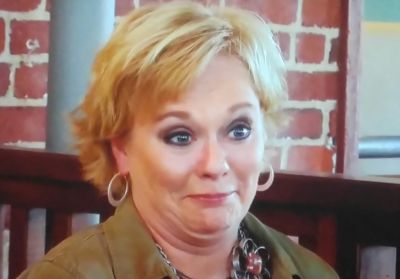 Everyone tries to act like this is a totally appropriate conversation for Ryan to be having in front of his new girlfriend.
"I can't control what I dream!" Ryan protests. "Don't y'all worry!"
After Ryan stops talking about his ex-fiancé's wedding attire, Jen brings up the topic of Halloween. Ryan says he's not really interested in going out with his son to fetch candy. He only did it (well…attempted to do it) last year because Bentley didn't have anyone to trick-or-treat with.
"Well you were a tad bit late last year," Jen reminds Ryan.
Um…a tad?! It was basically mid-November by the time Ryan finally strolled in.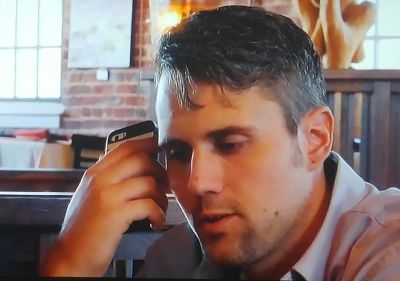 Ryan calls up Maci to see if Bentley has a Halloween costume yet. Maci says that she hasn't bought it yet because she can't find it, and is thinking she'll have to make it herself.
Meanwhile, Larry hasn't said one word. He's legit just shoveling in his free breakfast scramble as fast as he possibly can. (He's probably trying to get in dessert before they stop filming.) He couldn't care less about Ryan's dreams, Bentley's costume or any of the crap these people are talking about.
"Y'all talk, I eat," he mutters.
LARRY FOR THE WIN!
Back in Texas, Farrah is making sure that her children's boutique isn't taking up all of her time. After all, she has two more businesses to run (and a whole town and an MTV production crew to terrorize).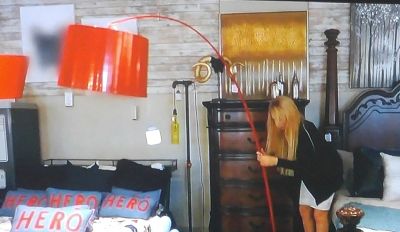 After wrestling with a ridiculously oversized lamp, Farrah is greeted by her father, [Whatever] Michael. He's right on time for his daily berating from his daughter. However, Michael is pleasantly surprised that Farrah wants to berate Debra instead of him.
Farrah's angry that Debra dared to play with Sophia during the kid's photoshoot in the boutique.
"She, like, actively wanted to be IN the pictures!" Farrah says of her mother. "That's just sad."
Um…well how else is Deb gonna promote her rap album? I mean, duh, Farrah!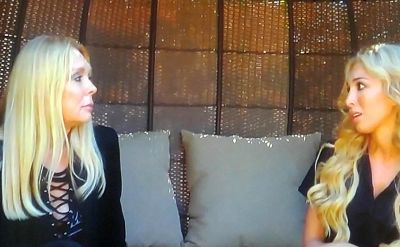 Later, Farrah is outside and Debra comes to chat. Things start out alright– Farrah is using her pretend "positive" voice as she tells her mom that she will permit the chat to happen. (She does not, however, look up from her phone at all.)
Deb wants to talk about what they learned in therapy, and is eager to make a plan to keep them from ripping each other's plastic-coated faces off.
Deb mentions that her therapist recommended Farrah come to therapy too. That does it! Farrah puts down the phone and starts using her louder, snappier voice. (I like to call it the "Whatever Michael" voice.)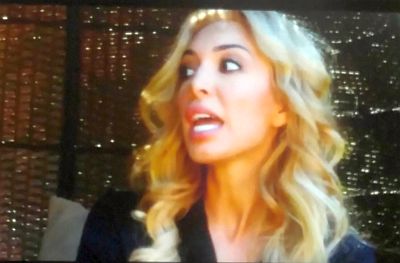 Farrah reminds Deb that she has her own therapist, thank you very much.
Seriously…the real money is in being a therapist in one of the states that a 'Teen Mom' star lives in. If you weren't able to get knocked up at 16 and go on MTV, look into that career option if you're looking to make a bundle of cash!
Anyway, Farrah's in that stage of the conversation where her eyes are about to turn green and her head's about to start spinning all the way around. She's angry that her mom has dared to bring up therapy. She starts speaking very loudly (and very slowly), and Debra looks like she wants to hide behind the weird basket chair they're sitting in.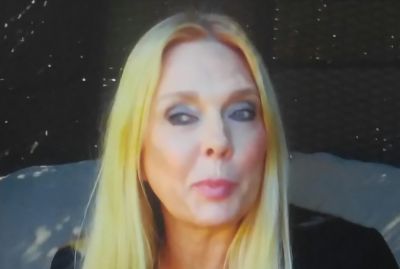 "Doctors told me that I was fine and that I didn't need therapy!" Deb protests.
Um…really? Now, Deb, were ya wearing just the crop top when you went to your appointment? Or the pleather pants too? That may have made the difference.
Farrah declares that she doesn't need to deal with all of this crap anymore. She's got businesses to run and her wedding to plan. (Oh…wait…) She tells her mother that she needs to be more positive when she interacts with her.
"I want to have a nice, peaceful vibe!" Farrah barks. "That's my life moving forward!"
As per usual, Farrah's barking quickly turns into an epic ugly cry. Her voice pitch goes up and the tears start flowing.
"You're not helping!" Farrah screams.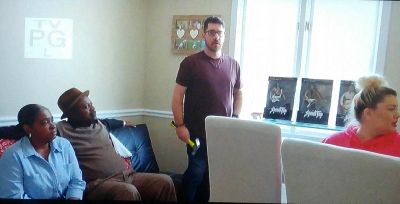 Meanwhile, Amber is discussing her clothing boutique with her neighbors who are, obviously, the epitome of Indiana high fashion in their fedora and jean shirt. (Is that a "jirt?" Is that a thing? Can it be a thing?)
Amber explains that she and Matt are trying to "build businesses" to make all of the money. She wants to have something to fall back on when MTV finally realizes how ridiculous it is to have a show called 'Teen Mom' that stars girls who are almost 30. They also want to have enough money to be able to open up rehab centers. Matt contributes to the conversation by occasionally grunting.
That's Haute!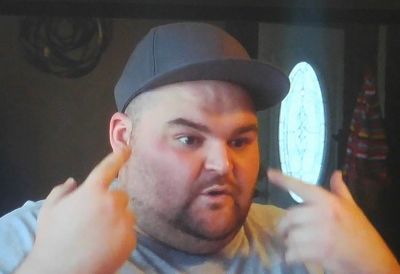 Later, Amber is hoping that Gary will allow Leah to spend the night at her house, so that Amber can take the kid to school the next morning. She texts Gary to see if that's OK.
Gary, however, is not thrilled with the idea. He says that Amber doesn't exactly have Leah's schooling at the forefront of her mind, and Gary worries that Leah will fall behind if she's at Amber's overnight.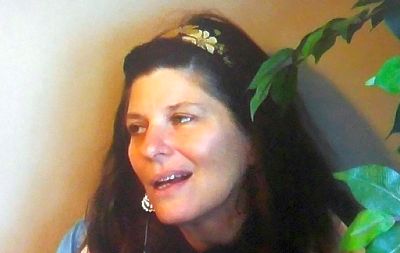 Producer Kerthy, who's sitting on the floor hiding behind a tree like some sort of forest troll, pops out to comment that it seems like Gary doesn't trust Amber fully. Gary brings up that pesky Reunion fight Amber had with Farrah as an example of how Amber needs to mature before he can fully trust her.
"Your daughter is right there and you want to go out and swing at somebody?" Gary says of Amber. "Leah can watch it on the monitor just like anybody else."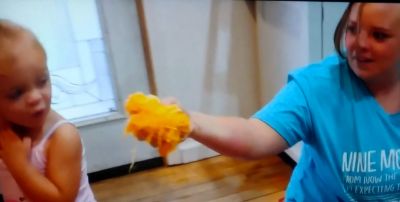 Over in Michigan, Cate and Ty are carving pumpkins and trying to get Nova to go near the pumpkin goop.
"Touch it!" Catelynn screams. "It's not gross!"
Why do I have a feeling that she said the same thing to Tyler on the night Nova was conceived?
That night, Tyler and Catelynn meet up with Tyler's mother Kim for dinner. Everyone is shoving barbecue nachos into their gullets as Tyler discusses jailbird Butch. Tyler zones out, and his mother notices that something is wrong. He says that they've "had a long couple of weeks" and says that Catelynn's mental illness is making him feel bad and exhausted. He vows to go see his therapist.
Of course, we get to see his therapy session. Tyler is talking about how he has exhausted all of his strength on his dad and Catelynn, and now he's just shutting down and being depressed.
He says that he doesn't feel joy or satisfied and sometimes it's because of Catelynn.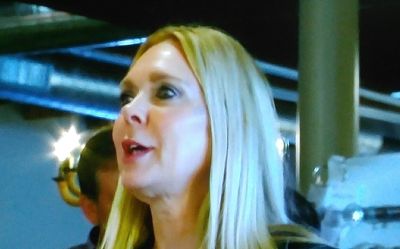 Back in Texas, it's the day of Sophia's store's opening. Farrah is sashaying around the store, announcing that they're about to cut the big red ribbon to open the store.
Sophia looks totally bored, as Farrah is shoving random kids out the door and encouraging them to look excited for the ribbon cutting. They use the big scissors (and by "they" I mean Farrah, of course) to cut the ribbon and Sophia looks like she wants a nap.
However, Debra looks like she's in a tizzy, what with being around so many child-sized clothing options! It's her dream come true!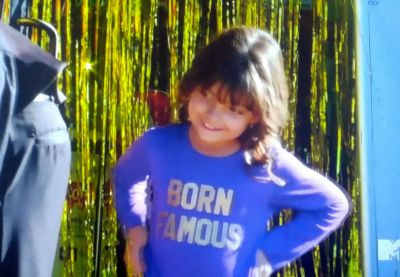 Afterward, Sophia (who is sporting a cringe-worthy shirt that says "Born Famous" that we'll almost certainly see Deb wearing on the next episode), says goodbye to her Grandpa Jerry, and later Debra.
In Tennessee, it's Halloween night! Bentley's all dressed up in his Thing 1 costume. Ryan, meanwhile, is telling Mackenzie why he missed trick-or-treating with Bentley last year.
Mackenzie reminds Ryan how important it is that he be on time, especially when his son is waiting on him. She vows that this year they will be on time.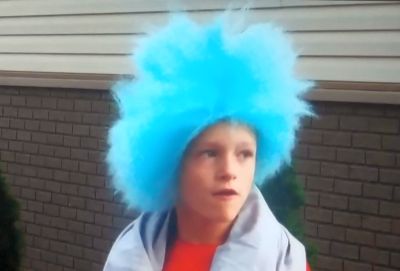 Later that night, Jen and Larry show up to Maci's house to join in on the trick-or-treating festivities. Ryan is not there, however. He is apparently caught in traffic and when Jen tells Bentley that his father is going to be late, Bentley is hardly surprised.
"He's always late!" Bentley states.
Maci tells the gang that she's not waiting around for Ryan to make an appearance. They start the candy hunting without Ryan. Eventually he arrives and legit tries to steal candy from one of Maci's babies. Things end on a happy note, though, and Bentley seems to be enjoying having all of his family together.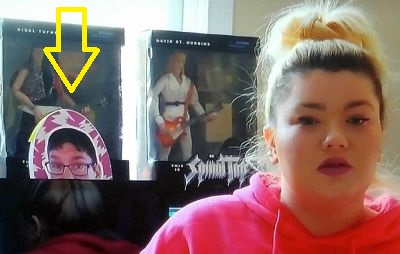 Meanwhile, Gary texts Amber to let her know that he's planning to pick Leah up that night. She's upset and starts to cry because Gary makes her feel like a bad mom.
"And I can't get stupid with him, because that's not going to change anything," Amber says. (Hey, say what you want but she has come a long way. The Amber from six years ago would have been running out to the driveway when Gary pulled up, armed with a bat!)
"She feels like she has no control and that's an awful feeling for a parent," Matt says.
Um…Matt, you need to have a seat there, bro. You're probably the last person on earth, other than, say, Butch and April, who should be giving parenting advice.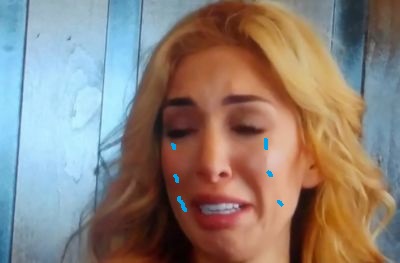 We check back in one last time with Farrah. She's having lunch with Michael, who thanks her for treating him halfway decent lately. She brings up what happened with Debra, and says that she gets angry just being around Debra. Farrah has decided to "take a break" from her mom completely.
Is it possible for us to take a break from Debra too? Just asking…
Farrah starts to cry because her family is so dysfunctional.
Well, yeah…can't argue with that!
That's it for this episode of 'Teen Mom OG!'
To read The Ashley's other recaps, click here!
(Photos: MTV)