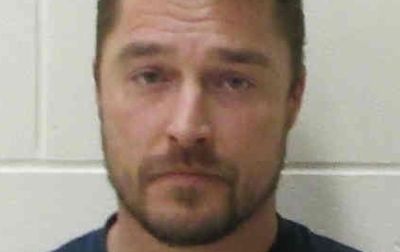 Will you accept these handcuffs?
Former Bachelor star Chris Soules didn't really have a choice in the matter on Tuesday morning, when he was arrested after causing– and then allegedly fleeing the scene of– a deadly car crash.
TMZ broke the story that Chris– who first appeared on Andi Dorfman's season of The Bachelorette before becoming 'The Bachelor' in 2015– was driving a pickup truck in Iowa just after 8 p.m. on Monday night when he rear-ended a John Deere tractor. The rear-end sent the tractor into a ditch.
According to WetPaint, Chris was at fault, but he did not wait for the ambulance or police to arrive on the scene before scurrying away. The driver of the tractor was reportedly taken by ambulance to a hospital, where he later died.
The name of the crash victim has just been released as 66-year-old Kenny Mosher, a farmer from the town of Aurora, Iowa.
TMZ reports that several people who witnessed the crime quickly realized that it was "Prince Farming" Chris who was at fault and called police. The cops found Chris shortly after 1 a.m. at residence. Although the site reports that Chris was not charged with driving under the influence, he was reportedly in possession of alcoholic beverage containers at the time of the crash. (TMZ states that, because it took so long for the cops to get a search warrant for the residence, it's nearly impossible to prove that Chris may have been under the influence at the time of the deadly crash.)
"Mr. Soules would not come out of the home. It took hours to get a search warrant to retrieve Mr. Soules from inside of that house in order to continue the investigation. That took hours," the state prosecutor said in court, according to People. "At no point did Mr. Soules come out of the house, or cooperate with law enforcement at any point in trying to get in contact with him regarding this individual and the [fatal] accident."
The general probable cause lists "admission/statements, caused property damage, operating motor vehicles, possessed alcoholic beverage/containers, identified by witnesses, near scene of crime and caused personal injury," according to Entertainment Tonight.
Chris was booked into the Buchanan County Jail and was charged with leaving the scene of an accident. A photo of Chris, wearing his jailhouse jumpsuit and orange slippers at his court arraignment this morning, was released earlier today. He later bonded out of jail for $10,000.
ET reports that Chris was required to turn in his passport because he was apparently planning to leave the country soon to film for a 'Bachelor'-related event. (Perhaps Bachelor in Paradise which films in Mexico each summer?) He will also have to wear an ankle monitor for the time being.
UPDATE: Chris' attorneys have released a statement to JustJared on behalf of Chris.
(Photo: Buchanan County Jail)