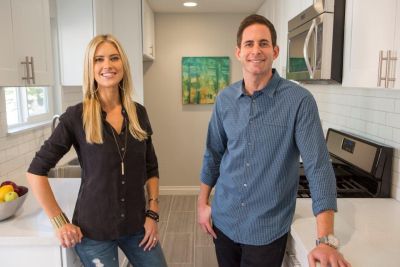 HGTV's favorite estranged couple, Tarek and Christina El Moussa, will be on your television set—together—for a long time to come! The couple rose to fame on their HGTV hit show Flip or Flop but separated very publicly last year.
It seems that the couple has been able to put their personal troubles behind them– at least enough to continue making their show. HGTV recently announced that, although Tarek and Christina are still separated, they have signed on to extend the seventh season of 'Flip or Flop' with more episodes.
HGTV says the couple will star together on 20 more of episodes of the hit show.
"Five of the [new] episodes are currently in post-production, with filming of the remaining episodes continuing through the fall," a network press release stated. "In Season 7 of the popular series, Tarek and Christina, who spent several years building their successful house flipping business, will continue to focus on finding, buying, renovating and flipping homes for profit in Southern California."
Despite their personal drama (that includes, but is not limited to, a bizarre domestic incident involving a gun and new beaus) the couple is staying together, at least in front of the camera.
The network even briefly addressed the couple's divorce drama in the press release.
"While the couple has separated, each one has turned the page to a new life that includes a continued commitment to running their house flipping business together and delivering fresh episodes of 'Flip or Flop,'" the press release reads.
The HGTV website states that season 7 will focus on "the ups and downs of Tarek and Christina's house flipping business as well as their family life," so there's a chance the couple may let viewers see some of their personal drama play out on the show.
Christina and Tarek said they are enjoying working together, despite their split.
"Tarek and I have been working together for a long time and we look forward to continuing to work together on 'Flip or Flop,'" Christina said in a statement.
"From the beginning, HGTV has shown Christina and me tremendous support and we are excited to go out there and flip many more houses for 'Flip or Flop,'" Tarek said.
The new episodes are scheduled to start airing this December on HGTV.
(Photo courtesy of HGTV)