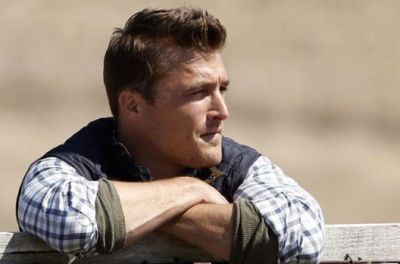 Yesterday, the news broke that Chris Soules was involved in a deadly car crash near his farm in Arlington, Iowa. The crash (which you can read about here), killed one man and eventually led the arrest of the Bachelor star, after it was determined that he left the scene of the accident before authorities arrived.
On Wednesday, the recording of a 911 call made by Chris was released, indicating that the reality star did, in fact, call the police and request emergency services for the victim of the crash.
"Soules is breathing heavily, apparently emotional and seemingly on the edge of tears as he tells the dispatcher what happened," People reports of the recording.
During the call, Chris can be heard talking to someone else at the scene, asking that person to perform CPR on the injured man, identified as Iowa farmer Ken Mosher. Chris checked the man's pulse and reported that the victim didn't appear to be breathing. Chris hangs up soon after.
At some point between the call and authorities arriving on the scene, the 'Bachelor' star allegedly left the scene of the crash. Hours later, Chris was tracked down at a residence, where he reportedly refused to cooperate with police until they obtained a search warrant of the property.
Chris was taken to Buchanan County Jail, and eventually bonded out on Tuesday. According to Us Weekly, he had to surrender his passport and is now wearing an ankle monitoring device.
"Chris hasn't left his house yet," a source told Us. "His family has been by his side."
Us Weekly reports that Chris' first hearing is scheduled for Tuesday, May 2.
It's being reported that Chris knew the victim, Ken Mosher, and that they were neighbors.
Chris' 'Bachelor' exes, Andi Dorfman and Whitney Bischoff, have each issued statements, as have many of his former show co-stars. Chris has made one statement, via his lawyers, but has not yet spoken publicly about what happened.
To listen to the 911 call made by Chris, click below:
(Photo: ABC)