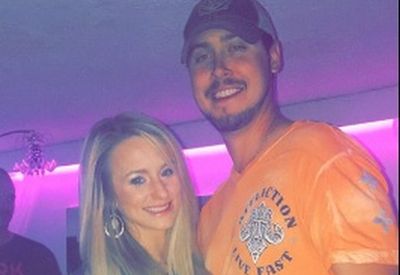 Leah Messer and Jeremy Calvert got the Teen Mom Rumor Mill churning on Friday night when they posed for several silly photos together while inside a local bar.
The exes, who officially divorced last year, appeared to be having a great time together, causing 'Teen Mom 2' fans to wonder if they were actually on a date or even back together. To further complicate matters, Jeremy's on-and-off fiancé Brooke Wehr, posted a photo of herself lying in bed with a guy who is not Jeremy (and has some really unfortunate bangs).
Leah and Jeremy have both been getting a lot of questions about their meet-up, so The Ashley went to Jeremy to get the scoop on what really went down, and whether or not he and his ex-wife are giving their relationship another try.
"This past weekend, I went to the bar by myself because basically everyone in town was at a concert that was going on in Charleston," Jeremy told The Ashley. "After the concert, everyone started coming into the bar including my friends and Leah and her friends. It wasn't planned or anything, it just happened we went to the same place. So everyone told us to take a picture together. So we did and we posted it."
The story doesn't end there, though, according to Jeremy.
"I was single, so I didn't see anything wrong with taking an innocent photo with my ex-wife," he said. "We have a child together, and we're not going to start screaming at each other or anything. We get along and we act like mature adults for our kid."
'Teen Mom' fans weren't the only people who saw the photos posted to social media, however. Jeremy claims that Brooke saw the photos too, and was very unhappy about them.
"Brooke and I broke up back in February," he said. "That's when she posted all the stuff on social media about me, lying about me hooking up with a 'Teen Mom' producer and stuff. After all that, we tried to work things out and we got back together. About two weeks later, we had a talk and she basically told me that she needed me to move to Ohio where she lives, and stop being on the road for work so much in order for our relationship to work. I wasn't going to walk away from my home in West Virginia or my career, so we ended things again. There was no arguing or anything, just a clean break."
Recently, though, Jeremy says that Brooke had been texting him again, and even entertaining the idea of them getting back together. However once Brooke saw the photo of Jeremy and Leah together at the bar, that all changed.
Hours later, Brooke uploaded the photo of herself in bed with a guy to Instagram. (She later deleted the photo.) She then posted a screenshot of a text between Jeremy and Brooke's best friend. In the screenshot, Jeremy seems to be telling Brooke's friend that he's going to inform Brooke that they had sex.
Jeremy told The Ashley that the text Brooke posted is, indeed, real, and that he did have, um, relations with her friend.
"But at the time we hooked up, I was single," Jeremy said. "This happened last winter, and Brooke was with someone else at the same time. We were broken up, and I never thought Brooke and I would get back together. We did it one time and it was over. Afterward, Brooke and I got back together and it was kind of awkward, so [Brooke's friend] and I kept our mouths shut."
That's a lot of ding-dang drama, y'all!
Jeremy says he is never getting back together with Brooke (again.) And, he's also not getting back together with Leah, for that matter.
"Me and Leah are not back together, we're strictly friends," he said. "If I run into my ex-wife, we're going to act like mature adults for the sake of our child. If people don't understand that they can kiss my ass."
"Alrighttt last night is over & it's a new day. Let's move on.. LOL," Leah tweeted on Saturday.
Although Leah and Jeremy seemed to be struggling (a lot) with their co-parenting during the last season of 'Teen Mom 2,' Jeremy says that they're getting along just fine now.
"MTV tries to make things look like Leah and me don't get along, but that's not true," he said. "Things are never going to be perfect for a divorced couple with a child, that's true, but things between us aren't bad."
'Teen Mom 2' fans may be seeing Leah and Jeremy's newly perfected co-parenting relationship play out next season on the show. Even though in the past Jeremy had been adamant that he was quitting 'Teen Mom 2,' he says he has had a change of heart (that came in the form of an increase to his MTV salary!)
"We're still in negotiation for me to be in Season 8," he said. "Their money offer went up, so, I've been filming. We'll see."
But Jeremy told 'Teen Mom 2' fans not to expect to see him and Leah getting back together.
"We're just friends and that's the way it's going to stay," Jeremy said.
Sadly, that means that there probably won't be any more bacon-slapping scenes in our future. #NeverForget
(Photos: Snapchat, Instagram)