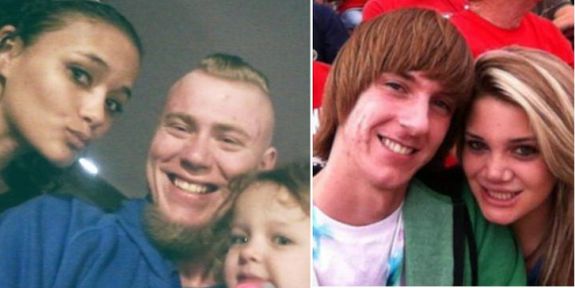 The 16 and Pregnant baby boom continues!
Aleah Lebeouf and Courtney Ames, who both starred on the show's fifth season back in 2014, announced their second pregnancies over the weekend.
Courtney, who is best remembered for being the "born again virgin" from her season, is reportedly due to give birth this October. She and the baby's father, Scott Snoddy, are already parents to son Dayton, who will turn four this December.
The couple broke up after their "16 and Pregnant" episode aired, but eventually reconciled. They got married on January 17, 2017.
Courtney's sister Brittany expressed her excitement to become an aunt again by posting a photo to Instagram that showed how Courtney and Scott announced their pregnancy.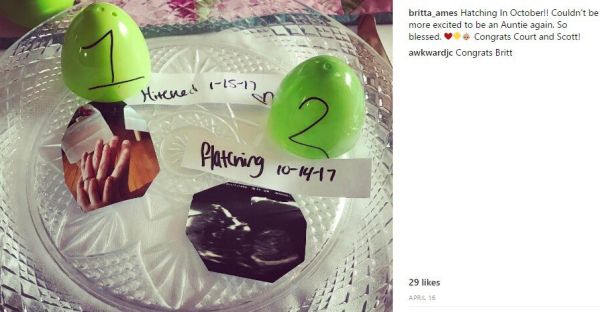 The post shows two Easter eggs, one with "Hitched 1-17-17" and a photo of the couple's wedding rings. The other egg had a sonogram photo and the words "Hatching 10-14-17."
Courtney's "16 and Pregnant" Season 5 co-star, Aleah, also officially announced her pregnancy this weekend. (Her episode was memorable because she had diabetes, which complicated her pregnancy, and because she was acting as a stepmom to the young son of her boyfriend at the time, Shawn Burke.)
On Sunday, the mother of daughter Peyton posted an Instagram photo showing a bunch of positive pregnancy tests.
"Well here it is everyone," she captioned the photo. "I'm going to be a mama to a second wondorous miracle. To be honest I was scared to death when I found out and wondered if I could share the endless love I have for Peyton with another child. As it turns out, I can and I already do. So here's your first introduction to the world, my sweet little baby. We love you already."
The father of Aleah's baby is her boyfriend Drake, whom she started dating in October. (Aleah and Shawn split sometime last year.)
On Sunday, Aleah posted that she was in the hospital, due to complications with the pregnancy.
"Here you have it," she wrote on Twitter. "I'm pregnant. I'm currently in the hospital doing all I can to keep my baby safe & growing inside me. Peys so excited!!
Courtney and Aleah are the fourth and fifth girls from their "16 and Pregnant" season to have a second pregnancy. Their cast mate Summer Rewis had a second baby in 2016. Savannah Mooney also had a second pregnancy, but chose adoption for the son she gave birth to in June 2016. Millina Kacmar, who also starred on Season 5, was pregnant last year but miscarried.
Just recently, Jordan Ward of Season 3 announced that she's pregnant with her third baby, while Season 4's Hope Harbert gave birth to her second child over the weekend.
(Photos: Facebook, Instagram)