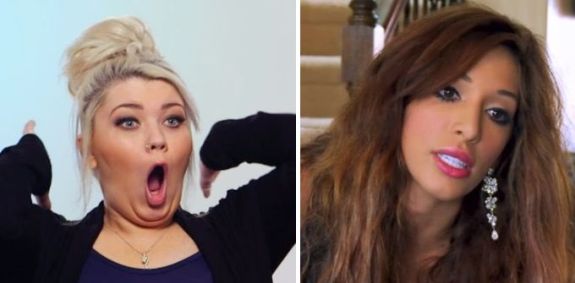 The catfight between 'Teen Mom OG' stars Farrah Abraham and Amber Portwood continued last week, with Amber hitting back at Farrah for some comments the Backdoor Teen Mom made about her and some of their cast mates. (Farrah said Amber looked like a "cheaper hooker" in her wedding dress, among other things.)
Round 258 of the 'Teen Mom' Feud started when Farrah posted a photo on Instagram that showed her and her sometimes-boyfriend Simon Saran flipping houses. When fans began to accuse Farrah of "copying" Amber in the house-flipping venture, Farrah attempted to set the record straight… in her own special way.
(The Ashley has not edited Farrah's comment because she enjoys "Farrah Speak.")
"First off – we flip in San Fran, 2. I love everyone wealthy or not!" Farrah wrote in the comment section of her photo, before insulting Amber and her fiancé Matt Baier. "3. B**ch hate & watch & take notes so you can make $$$$$$$$$$ lol like amber & Matt wish they could "AHH" I love admirer's we do it better then everyone & my friends on HGTV & All networks will agree 2 that – Enjoy !!!!!! Stop commenting when you don't know s**t . #Drabtofab #HoodtoHip"
Amber must have been told that Farrah was talking about her on Instagram, as she chimed in to offer her own comments in the photo's comment section.
"Don't comment on a real woman sweetheart!" Amber wrote. "I gave you family bootcamp lol and I make money on my houses…I don't lose money like your other house."
(Amber is referring to the fact that Farrah was, indeed, the third 'Teen Mom' girl approached by WEtv to do Marriage Boot Camp Reality Stars: Family Edition. As The Ashley told you, Jenelle Evans was approached to do the show, but she turned it down. The network then approached Amber, who also turned it down. Finally, they asked Farrah and her family because, well, they never turn down a reality show offer!)
Next, Amber started spilling some tea on Farrah.
"This is why you shouldn't do cocaine and drink all the time okay honey," Amber wrote. "Your forgetting things like you know That guy you met online in NY?? Keep it up and I will literally stop all this with one interview and text messages. Don't play with a true Queen sweetheart try me!!"
Please pray to the 'Teen Mom' Gods that Amber leaks those text messages!
(Photos: MTV)