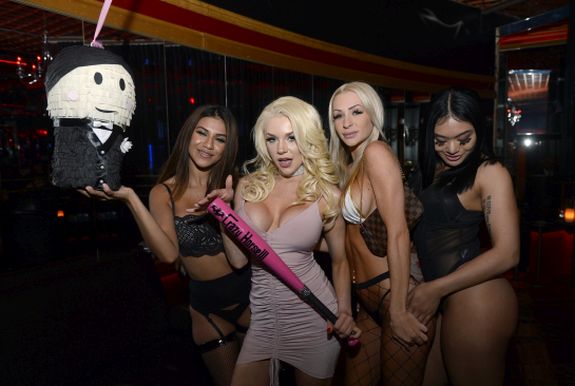 Courtney Stodden officially said "so long" to married life on Friday night by celebrating her split from husband Doug Hutchison with a crazy "divorce party" at a Las Vegas strip club.
Courtney, now 22, has been married since she was 16 years old, and in a recent interview with The Ashley, she stated that the split from her husband has been hard, so the party was a chance to lift her spirits—and allow her to experience the bachelorette party scenario she missed when she got married in 2011.
"I think the party may help lighten things up for me," she told The Ashley. "We got married in Vegas in a little chapel with like five people there, so we never had the whole bachelor/bachelorette experience. So this is like a weird reverse version of that– like a single bachelorette party!"
According to a person who attended the festivities, which took place at Vegas' Crazy Horse III gentlemen's club, Courtney was guzzling booze all night—starting with "Adios" shots and then switching to champagne. At one point, Courtney led a champagne toast, yelling, "To divorce!"
And, as with any good party that takes place inside a strip club, there were lap dances. (Courtney is a pro at the ol' lap dance, as we all saw in her "Mistletoe Bikini" music video.) However, she sat the night out and let the dancers do the work. She got multiple lap dances over in the VIP area.
The party also included a groom-shaped piñata that Courtney was able to beat with an official "Crazy Horse" pink bat. After Courtney cracked open the "Doug" piñata and all the money that was inside fell out, she wore part of the piñata as a hat. (As you do…)
The "divorce cake" at the party had a miniature Courtney on one side, and a mini (senior citizen) Doug on the other. In a particularly classy move, Courtney bit off "mini Courtney's" breasts and posted a video of the act to her Snapchat.
Later, she took a money gun (who knew there was such a thing?) and "made it rain" dollar bills inside the club. Courtney was still dancing and drinking inside the club until the wee hours of Saturday morning.
There were several familiar faces attending the event on Friday night, including Shauna Sand-Lamas and Heather Marianna (whom you might remember did a line of bath products with Teen Mom OG star Farrah Abraham).
Courtney told The Ashley that she and Doug are trying to keep their split amicable.
"We don't want to be this nasty Hollywood couple that tears each other apart," she said. "We want to lead as an example for other celebrity couples going through a divorce. It's making things harder and right now the tension is high, but we're managing to remain loving and respectful of one another."
Courtney and Doug have appeared on several reality TV shows together, including Couples Therapy in 2012, and The Mother/Daughter Experiment last year.
(Top Photo: Bryan Steffy, WireImage/ Other photos: Instagram)