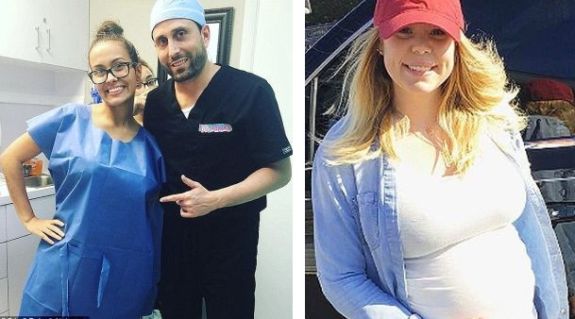 Teen Mom stars Kail Lowry and Briana DeJesus will once again be going on under the knife of the Snapchatting doctor, Dr. Miami.
The gals, who are both currently pregnant, will apparently be getting post-baby nip 'n' tuck sessions with the good doctor.
In an interview with Radar Online,  Dr. Miami told us all about Kail's upcoming surgery.
"Kail is scheduled to have surgery with me after she has this baby," Dr. Miami said.
Of course, this is not Kail's first time on Dr. Miami's operating table. She already had a butt lift, tummy tuck and liposuction last year.
Dr. Miami didn't specifically say what surgery the mom-to-be was having this time but he hinted that it could be another tummy tuck.
"There is a myth that you can only have a tummy tuck once you are done having kids," he said. "But it's not really true. You can have a tummy tuck after your first kid and if you get pregnant again you can have another one. The body has an amazing elastic."
Briana DeJesus, the Teen Mom 3 star who will soon star alongside Kail on 'Teen Mom 2,' is also a former patient of Dr. Miami who will be coming back for more surgery after she gives birth.
Briana took to Twitter to brag about her upcoming surgery, tweeting a screenshot of a conversation she had with Dr. Miami.
"…I'm pregnant again so hopefully when I give birth. I would love to work with you again! Things are falling out of place," she texted the doctor.
He congratulated Briana and said he would be glad to work with her again.
"This is why I love him so much," Briana tweeted about Dr. Miami. "Got so many new ideas on what I wanna do! Stay tuned!"
On the same day as Kail's surgery last year, Briana and her sister Brittany went under the knife, getting a BBL (Brazilian Butt Lift) as well as liposuction and a labiaplasty, all of which was broadcast to Dr. Miami's thousands of Snapchat followers.
Both girls are currently pregnant due to have their babies this summer. This will be Kail's third child and Briana's second.
It's not yet known whether Kail and Briana will have their surgeries shown on Dr. Miami's new WEtv reality show, which is currently airing Fridays at 10 p.m.
(Photos: Instagram)