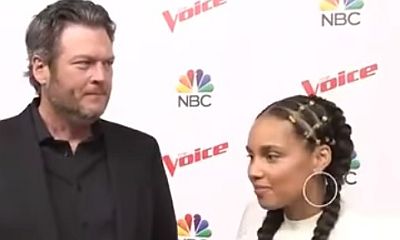 Alicia Keys is abandoning her Big Red Chair after the current season of The Voice ends in the name of music… she may not be the only Coach leaving the show.
Alicia, who is currently a coach on the NBC show, recently stated that she will not be returning for Season 13. In an interview with Entertainment Tonight on Monday night, Alicia revealed that she has no plans to return to the show and will instead be focusing on her music. In a surprising statement, her co-star Blake Shelton hinted that he, too, may be leaving the show before next season.
Alicia told ET that she is focusing on getting her new music released.
"That's one of the reasons I'm not going to be able to come back for next season," she said.
With Alicia out, that leaves at least one Big Red Chair open. Miley Cyrus has already signed on for Season 13, and, although fans expect her to be joined by steady judges Adam Levine and Blake, Blake joked(?) during ET's red carpet interview Monday night that he also won't be returning to the show.
"This will be my last season of this show too," he said. "I don't do entertainment anymore, kids."
Blake has appeared on every season of 'The Voice' since it premiered in 2011. Although he's known as a jokester, he didn't appear to be playing around when he made the statement. In fact, both the reporter and Alicia seemed to be unable to tell if Blake was being serious or not. The interview ended somewhat awkwardly.
Former coaches who could be brought in to fill the Coach's Chairs for Season 13 include Gwen Stefani, Usher, Pharrell, Christina Aguilera and Shakira (although in 2014 she said she had no plans to come back to the show).
UPDATE! A rep for the show tells The Ashley that Blake was just kidding around. "He is confirmed to return next season," the rep stated. (Phew!)
Watch Alicia and Blake's interview below:
(Photo: Entertainment Tonight)