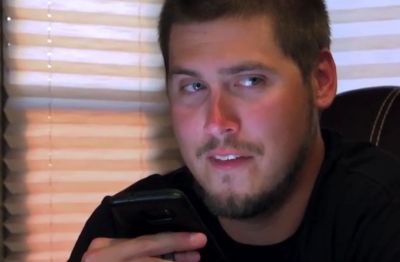 Teen Mom 2 fans can always count on Jeremy Calvert to deliver an epic rant!
Leah Messer's ex-husband did not disappoint last night when he started an Instagram live video. Jeremy, who appeared to have been, um, "nipping at the cooking sherry" a bit before logging on, proceeded to bash his ex-fiance, Brooke Wehr, as well as MTV and his critics.
(Jeremy recently told The Ashley that he and Brooke are done for good this time.)
He didn't, however, have anything bad to say about his ex-wife Leah Messer during the broadcast.
The rant, which one follower recorded and later put on YouTube, contained a lot of information (in between cuss words and references to Jeremy's junk, naturally), and it was viewed by a large number of Jeremy's 403,000 Instagram followers.
Here are some interesting things we learned from Jeremy's rambling rant.
He's tired of people thinking that he and Leah are back together just because they get along now: "Me and Leah, we co-parent great. Our daughter comes first. And she knows that I know that no matter what Addie comes first. For Christ's sake, quit talking about me and [Leah] getting back together. It is f**king ridiculous…We co-parent fantastic even though MTV never wants to share that."
MTV wants drama between him and Leah: "All they want is the negative editing, arguments, fights, disagreements so they can f**king make a show. If you people are that g**damn stupid to not see that, what the f**k is your problem?… It's not f**king hard to put two and two together, people…Yes, MTV just wants drama, people!" 
His daughter, Addie, is doing just fine, despite any rumors you may have heard: "She has a perfect life. And anybody that don't think that they can go jump off a motherf**king bridge and die for all I care… I'm not perfect by no means, but I try my best. I work hard Monday-Saturday and I try my best to be available for my daughter. If she needs something, I'm there. If Leah needs something, I make it happen."
He can't just 'stop filming' for 'Teen Mom 2': "Everybody keeps saying, 'Oh you can stop filming… at any time you want to.' No motherf**kers you can't. You signed a contract. So no you can't. You don't know anything about the contract." [In Jeremy's interview with The Ashley earlier this week, he admitted that he is filming for Season 8 because MTV offered him a lot more money to sign on.]
He claims that Brooke was cheating on him with a married guy: "She's trying to stay on her 15 minutes of fame. She can f**king hit the g**damn road. It's pretty bad whenever you keep getting text messages and Instagram messages from people saying she's been f**king somebody since January that's married with two kids."
He did hook up with Brooke's best friend, but it was retaliation sex…or something: "Did I hook up with my fiance's best friend? Yep. Sure did. Was I single at the time? Yes I was. 100%. Was she f**king another man for about two-and-a-half months before me and her friend hooked up? Yup. Sure was. F**king his brains out every day. And guess what? The only reason me and her friend hooked up was 'cause her fiance told her that him and Brooke hooked up so she was pissed off. I was pissed off. I was single. So we hooked up." [As you do….]
He doesn't like the show's fans very much: "F**king people think they know everything. They can f**king f**k off and jump off a f**king bridge and die for all I care."
Jeremy left us with this quote:
"I'm me, and I ain't changin' for a motherf**kin' person in this world!"
If you would like to watch the video of Jeremy's full Instagram Live rant, you can do so below. Just be forewarned that the video contains massive amounts of foul language, so be sure to pop on your headphones if you're listening while at work!)
(Photo: MTV)