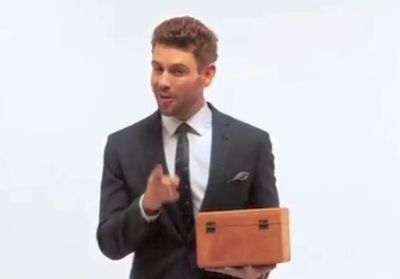 Nick Viall has released the first commercial for his line of male grooming products and…it's surprisingly funny!
The former Bachelor star appears in the commercial for his company, The Polished Gent, and pokes fun at himself and his former career of being a reality TV star.
The clip starts out with Nick asking himself what he is going to do now that he's no longer on reality TV. (He recently got the boot from Dancing with the Stars, in case you care.)
He's seen taking part in activities that a lot of reality TV stars do to stretch out their 15 minutes of fame: from hawking creepy teas on Instagram, to doing cheesy commercials.
"Nope," Nick says. "Nobody wants that."
He then proceeds to tell the men of America why they need his Polished Gent grooming products, using his own good looks to help sell his stuff.
"I'm 36 years old and I think I look young as f**k," he says. "We can all agree that I've polished up over the past few years."
He attributes The Polished Gent products for helping him achieved his new-and-improved look.
The company, which Nick started working on last year, will officially launch on May 8.
Watch the surprisingly clever commercial below:
Coming May 8th! Excited to finally announce the launch of The Polished Gent! https://t.co/pIvcYxzPcS for more details. #getpolished pic.twitter.com/AEmdnr0UpK

— Nick Viall (@viallnicholas28) May 4, 2017