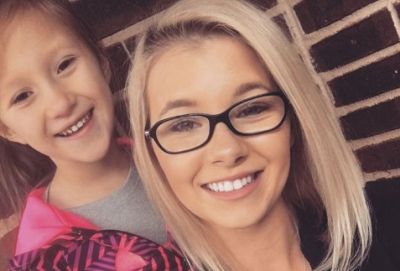 Former 16 and Pregnant star Lindsey Nicholson has just announced that she is expecting her second child.
Lindsey, who married TJ Nicholson in July 2015, let her followers know her happy news via a post on social media on Friday.
"The secret's out. TJ is drinking for 3. I'm eating for 2 & Aniyah is going to be a BIG sister.. FINALLY!" she tweeted, along with a family photo. "Thank you everyone the congratulations. We can't wait to meet our little bundle of joy here soon."
Lindsey's daughter, Aniyah, who was born during Lindsey's "16 and Pregnant" episode, will turn six in October. Lindsey's husband TJ has officially adopted Aniyah. (The girl's birth father, Forest Ponce, is no longer in the picture.)
Lindsey is now a real estate agent working in Texas.
She is one of the last girls from her season of "16 and Pregnant" to have a second pregnancy. Nearly all of the 12 girls featured on Season 4 have gone on to have at least one more baby (and in the cases of Mackenzie McKee, Jordan Howard, Sarah Roberts and Kristina Head, two more babies!) Unlike most of the girls, though, Lindsey waited until she was married to have another child.
(In case you're wondering, Alex Sekella and Sabrina Solares are the only two girls from Season 4 who still have one child.)
To find out what some of the other girls from "16 and Pregnant" are up to now, click here!