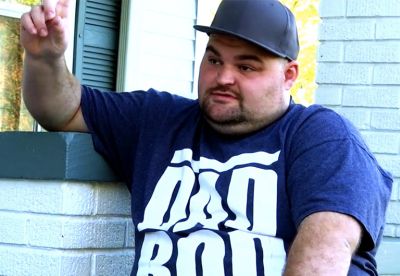 Over the past few years, several Teen Mom cast members have dipped their feet into the apparel business, with Amber Portwood launching her "Be Forever Haute" line this year, and Catelynn Lowell and Tyler Baltierra about to launch their own "Tierra Reign" line of kids' clothing very soon. They follow Maci Bookout and Taylor McKinney, who got into the T-shirt business several years ago when Taylor purchased the TTM clothing line.
Farrah Abraham recently announced that she, too, is starting an apparel line, so The Ashley decided to go through the various lines and pick out her favorite (i.e. the strangest) offerings. Here, in no particular order are seven weird pieces of clothing you can buy from a clothing line belonging to a 'Teen Mom' cast member…
A basic T-shirt for your kid…that costs $30 plus shipping: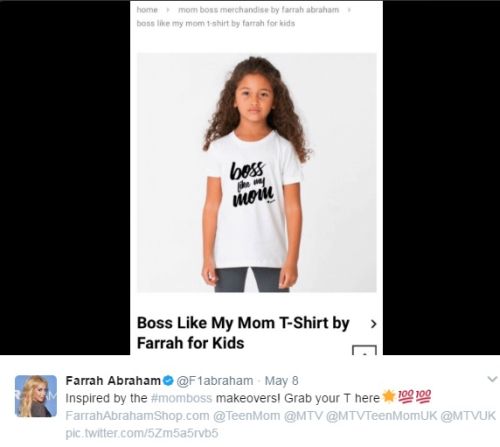 In order to afford this basic tee from Farrah Abraham's new clothing line, you better be a boss. The white T-shirt (which is your basic tee, save for the "Boss Like My Mom" slogan on the front) will set you back a whopping $30…not including the shipping costs. However, the shirt does include Farrah's name under the slogan, so there's that…
Peggy Bundy's cheetah-print jumpsuit: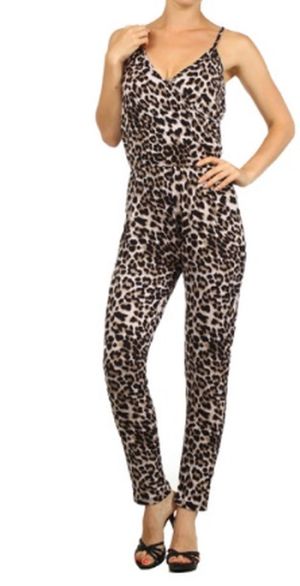 Amber Portwood has been known to wear some of her "Be Forever Haute" clothing on 'Teen Mom OG,' but this animal-print jumpsuit looks like it belongs on 'Married With Children,' being sported by Peg Bundy! The only good thing about this one-piece get-up is that it actually costs less than Farrah's kid's T-shirt.
A camel-colored jumpsuit that comes complete with a camel toe: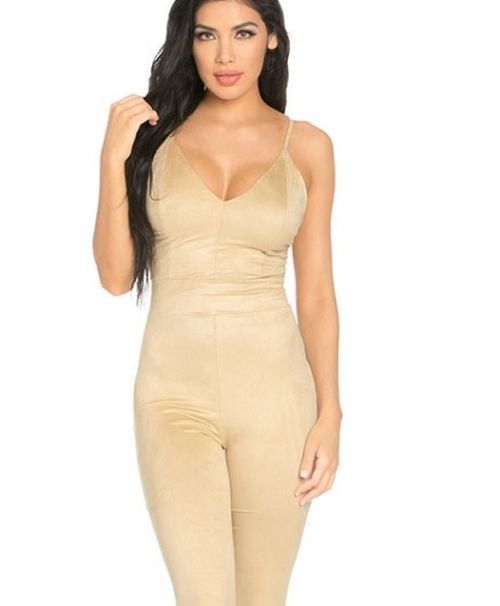 From the weird faux suede material to the ill-fitting area around your, um, baby-maker, this jumpsuit can't even make the Kylie Jenner look-alike model look good! However, if you are trying to appear naked in public without actually stripping down, this outfit may be worth its $37.99 price tag.
This men's shirt/dress/thing:
Is it a T-shirt? A dress? A tunic? This extra-long tee from Maci and Taylor's TTM line is not only confusing but expensive. Ordering this "Gator Pocket Bucket Tee" will set you back $28.95, although it appears that the shirt is of higher quality than your average Hanes T-shirt. There is one plus to ordering this shirt: If you knock up your girlfriend (two times in a span of two years, for instance), she can wear this shirt as a maternity outfit.
An oddly-shaped plain T-shirt that costs $27:
Speaking of extra-long tees, this product from Maci and Taylor's line offers extra length, but not much else! It's a plain white T-shirt, save for a tiny TTM logo in the upper right-hand corner of the shirt. The lack of design doesn't make the shirt less expensive, though. It will still run you $27—plus $7 in shipping!
These weird baby booty shorts:
Being a baby is no reason to avoid wearing booty shorts, apparently! These lacy shorts, which Catelynn Lowell recently showcased on Instagram as part of her upcoming clothing line, look more like baby lingerie than kids' clothing!
A 'signature' T-shirt: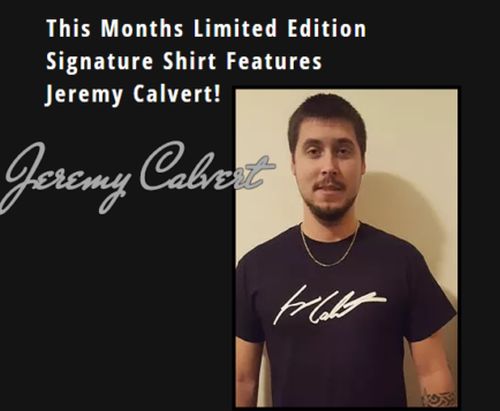 Who could resist a T-shirt featuring the signature of 'Teen Mom 2' baby daddy Jeremy Calvert? Unfortunately, Jeremy's fans will not have the opportunity to model this signature T-shirt, as it was part of Jeremy's clothing line with his now-ex-fiance Brooke Wehr. The clothing line appears to have gone belly-up, just like the relationship.
RIP CalvertWehr…we hardly knew ye….
(Photos: Twitter, Instagram)