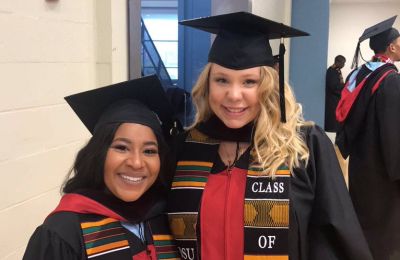 Teen Mom 2 star Kail Lowry has accomplished what no other star of the franchise has done: She graduated college with a Bachelors degree.
On Saturday, Kail walked across the stage to receive her degree from Delaware State University in Communications. Her two sons, Lincoln and Isaac were in attendance at the graduation ceremony, as was a 'Teen Mom 2' film crew.
"Guess what today is!" she wrote in the caption of a photo of herself and a friend dressed in their caps and gowns.
Kail, who is currently pregnant with her third child, has been excitedly posting about her graduation over the past few weeks. Last month, she posted several of her graduation photos to social media, showing her holding up her cap, which had been decorated to say "Mom x 3 plus a degree."
In a recent blog post, Kail opened up about why it took her six years to complete her degree.
"If you follow any amount of the show, you know I've been struggling to get through school and earn my bachelor's over the last 6 years… Yes, 6 years. Between teen motherhood, financial hurdles in the beginning, then moving to a new state, marriage, babies and divorce… and then of course just wanting to give up, I (barely) held on," she wrote. "This has been an extremely long and emotional road for me and for my family. "There are a select few people around me that have helped make this possible for me, they know who they are and I'm so thankful for them. I love you!"
To date, Kail is the only 'Teen Mom' cast member to earn a Bachelors degree. (To be fair, Farrah Abraham states that she has at least two Bachelors degrees but…this is Farrah we're talking about. She does, however, have an Associates degree.)
Very few girls from the 'Teen Mom' franchise have even gone to college, let alone graduated with any type of degree. Maci Bookout holds an Associates degree, and Leah Messer is currently taking classes at West Virginia University. (In terms of the entire 'Teen Mom' franchise cast, the only other person to hold any college degree, other than those named above, is Simon Saran, who earned his Bachelors from the University of San Diego in 2010.)
(Please note, The Ashley is not including 'Teen Mom' grandparents here. Also, there have been several girls from 16 and Pregnant who have graduated, but they are not included here because they were not on a Teen Mom show.)
Kail's graduation will be shown on the upcoming eighth season of 'Teen Mom 2.'
(Photo: Twitter)