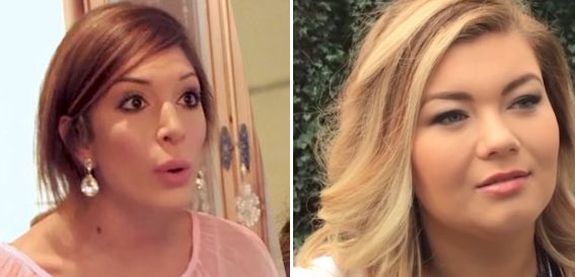 TMZ broke the news this morning that Teen Mom OG stars Amber Portwood and Matt Baier met with the head honcho of p0rn company Vivid Video earlier this month and, while many of the show's fans were shocked by this news, Farrah Abraham says she's not at all surprised.
The "Backdoor Teen Mom," who, in 2013 made her own deal with the adult film company, was happy to give The Ashley her thoughts on the possibility of Amber and Matt starring in an adult film of their own!
"I would caution them but they're felons and criminals so [I] see why they hope to follow in footsteps of mine," Farrah told The Ashley exclusively. "The envy of them wanting to be me never fails, as I see it [as] copying and following in my footsteps."
Farrah stated that this sex tape story is likely the work of her former manager, Gina Rodriguez, who was responsible for helping Farrah get the deal for her "Backdoor Teen Mom" tape. (Farrah has since cut ties with Gina.)
"Again it seems like Matt and Amber work with corrupted old management of mine, who is a failed porn star."
Farrah does not think a Matt and Amber tape is a good idea, for various reasons.
"Amber has enough mental issues and body issues [and] I doubt doing a sex tape at [the age of] 26 is in the right direction," Farrah said. "Her [plastic] surgery didn't work."
"Good luck to Vivid and Matt and Amber as I see all their drama and fake scenes," she added.
Me-ow! 
The Ashley has reached out to Vivid Video for more information on the potential sex tape and will update this story when more information is available.
UPDATE! Amber obviously read what Farrah had to say, and has responded in a series of tweets. (The Ashley has left them intact.)
"My issue with Farrah is not p0rn," Amber wrote. "It's her ignorance and disgusting attitude. She will be humbled one day. If anyone thinks I want to be like her is crazier than me lol. I am me and I love me!! Everyone should be there biggest supporter! Sending all my love."
(Photos: MTV)