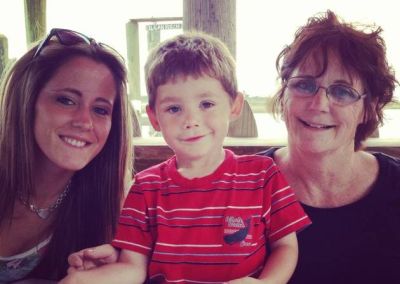 Jenelle Evans was battling her mother, Barbara Evans, in a Brunswick County, North Carolina, court room on Wednesday, hoping to finally regain custody of her son, Jace. However, The Ashley can exclusively confirm that the Teen Mom 2 star was unsuccessful in her bid to get full custody of the boy.
An insider tells The Ashley that the judge did not approve Jenelle getting full custody of Jace, whom she signed over to Barbara when he was just a baby. While Babs and Jenelle were scheduled to go to trial today, they ended up in mediation instead.
From what The Ashley hears, Jenelle did not get full custody but she will be getting more time with her son. The insider says that Barb offered to share custody with Jenelle, and that they are working out a set custody schedule so that Jenelle will have the boy on certain days. (It will be similar to how co-parents share custody of their children.)
Jenelle was reportedly in tears at the courthouse. MTV cameras captured the moments before Barb and Jenelle went into court, as well as the moments afterward.
The Ashley doesn't have all the details yet, but from what she hears, this new custody agreement will ensure that Barb can't withhold Jace from Jenelle for weeks at a time, as Jenelle has claimed her mom has done in the past.
UPDATE: The insider tells The Ashley that this custody agreement can be revisited at a later date, and that Jenelle plans to try to get full custody of Jace again, after this agreement has been in place for a while.
Stay tuned for more details!
(Photo: Instagram)