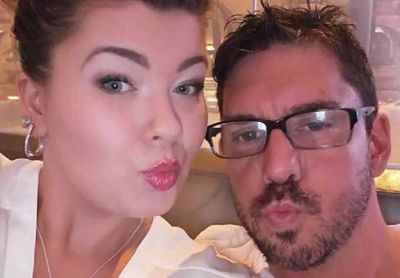 Just when you thought the saga of Amber Portwood and Matt Baier couldn't get any stranger…someone gets the idea to talk about doing a skin flick.
TMZ broke the news this morning that the Teen Mom OG stars met with Vivid Video CEO Steven Hirsch for a discussion on May 8, while they were in town for Amber to attend the MTV TV & Movie Awards.
"We're told Hirsch had reached out to Amber in the past, and since she was already in town for the MTV Movie & TV Awards … she decided to have the sit-down," TMZ reports.
(This was, of course, before the couple's engagement exploded and Matt took the infamous lie detector test.)
Before 'Teen Mom' fans doubt the validity of this story, it should be noted that Amber and Matt confirmed that they did, indeed, meet with the p0rn head honcho.
"The meeting with Steven and Vivid was very professional and low key," they told TMZ.
They did not confirm, though, that they are actually making an adult film…at least, not yet. (Maybe they were just chatting about the economy or climate change or something?)
As TMZ stated, this is not the first time Vivid discussed Amber showing her baby-maker on camera. Back in 2013, Amber's brother Shawn Portwood confirmed that Amber was once approached by a company to do a flick (a la Farrah Abraham), but at the time she refused.
"I know a girl who was offered a huge sum of $ to do the same thing. She didn't bc of her daughter.#thankyousis," Shawn tweeted at the time. "So funny Farrah sold herself for close to $1 million. I know a girl who was offered close to the same substantial amount of money but said she would never do it because of her daughter. Even when that girl was battling an addiction and could have used the money. Being an entrepreneur does not mean selling p0rn of yourself. Just saying…"
Anyway, while 'Teen Mom' fans may find it shocking that Amber even met with Vivid, The Ashley is not surprised, as Amber is apparently now working with Gina Rodriguez, who is the same woman who was managing Farrah at the time she did her "Backdoor Teen Mom" film. Gina was also managing Teen Mom 3 star Mackenzie McKee at the time that her "leaked sex tape scandal" occurred.
From what The Ashley hears, Amber's brother Shawn and her ex, Gary Shirley, had no idea that Amber and Matt met with Vivid at all. Both heard the news via the TMZ report.
The Ashley has reached out to Vivid in hopes that they will confirm or deny TMZ's story, and she will update this when she has more information.
UPDATE! Amber has given an interview to The Dirty regarding the TMZ story. While she says that "there's no sex tape" as of now, her statement didn't exactly make it seem like there won't be one in the future.
"Even if I did do something with Vivid it wouldn't be like other celebrity videos. I was the first to be asked years ago and turned it down," Amber said. "I'm not against them but I hate when people act like poor me. You made the decision. Make your money and do something good with it."
She hinted that she might be willing to put it all out there (literally) in the name of sweet charity!
"If I ever did anything like that I would just say yeah I did it and now I have halfway houses opening up or I would use it (the money) for charity," Amber said.
(Photo: Twitter)