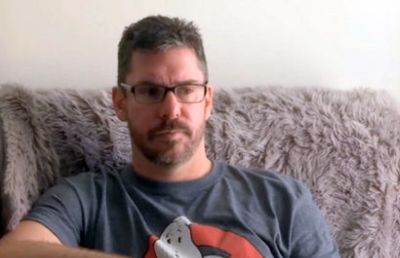 Last week's episode of Teen Mom OG showed Matt Baier getting caught on camera saying horrible things about his fiance, Amber Portwood, in addition to cussing out her brother Shawn, after Amber refused to marry him on the spot during a trip to Las Vegas.
Of course, the scene (which is pretty disturbing), did not go over well with 'Teen Mom OG' fans, and Matt tried to smooth things over during an appearance on Monday's 'Teen Mom After Show.' However, now Matt is claiming that there's a reason he acted so atrociously during that scene: he was allegedly all hopped-up on pills!
Matt, who claims to be a former addict (although many people from his past beg to differ on this fact), told People that he relapsed on prescription pills at the time this scene was filmed, and he [conveniently] doesn't even remember filming it.
"I had a drug relapse this year for the first time with prescription pills," Matt told the magazine. "I fell back into my addiction for about two months around December. I was taking a good amount of pills and I was killing the pain. Before I knew it I was back in the cycle again and completely off my program. I was still convincing myself that it wasn't as bad as it used to be but it was."
"When I saw that piece of tape I had no idea that even existed — that wasn't me," Matt said. "I completely blacked out. I was selfish. I was rambling. I was not remembering something we had filmed just 20 minutes prior. I was in a really, really bad place."
Matt says he was able to turn off his newly rediscovered addiction when Amber's daughter, Leah, came to visit.
"I did not use when we had Leah. I would never. I never did drugs around my kids," he said. "Having Leah around was one of the best things that ever happened to me because it preoccupied my mind. I had to take care of her and I didn't have to think about all the negative stuff."
As The Ashley exclusively reported earlier this week, a person who was in the audience for the "After Show" taping on April 19, said that Matt did state that he didn't remember filming the scene (and that he cried when he watched it for the first time). He did not, however, ever bring up his pill "relapse" while filming the After Show.
Matt claims that he has been off the pills for about four months now, and that Amber demanded he get back "on his program."
"One thing I can't do is lie to Amber, so I said listen, 'I'm in a bad place.' She told me to get help immediately and you need to get back on your program," Matt said of Amber who is a recovering addict. "She really kind of got in my face about it. I was afraid at first to tell her, you just never know how people are going to react. Amber is supportive, but she can be stern when it comes to stuff like this — she was pretty firm about it.
"I spent a lot of years sober and I was disappointed and ashamed that this happened but I am also going to grow from it. Now I have zero desire for it," Matt told the magazine.
While Matt may not have be popping pills anymore, he is finding other things to occupy his time. This week it was reported that Matt and Amber are in talks with Vivid Entertainment to do a sex tape. The couple has not made up their mind if they are going to go through with the tape, but both Amber and Matt have admitted that they are considering it.
(Photo: MTV)