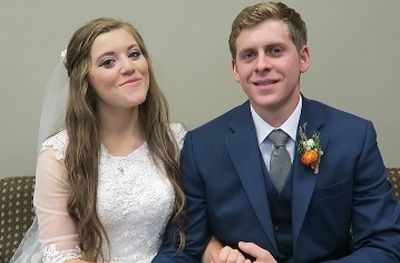 On Friday, 19-year-old Joy Anna Duggar became the youngest Duggar daughter bride to date when she married Austin Forsyth in Arkansas.
Joy, who got engaged to Austin three months ago but has known him for 15 years, walked down the aisle with her father, Jim Bob Duggar, wearing a white lace gown with three-quarter sleeves.
Her hair was kept simple– with half pulled back to hold a lace-trimmed veil. She carried a bouquet of orange and white flowers.
Austin wore a blue suit with a boutonniere of white and orange flowers. According to the Duggar Family blog, the wedding colors were orange and blue, and the decor was "rustic-chic and outdoorsy."
Joy and Austin took a break from their wedding festivities to film a clip for TLC (as you do).
"I don't even know, all about how it feels to be husband and wife," Joy says in the clip. "So far it's incredible!"
Austin described the day in a very strange way.
"The moment I said 'I do' was a huge burden off my shoulders," he said. "Finally being married to her is just a tremendous weight lifted off."
In an interview with People, Joy and Austin hinted that they will be taking a very long honeymoon away from the Duggar Family compound.
"We are going to be traveling for our honeymoon for awhile," Joy said.
"A lifetime," Austin added.
Naturally, they plugged the upcoming episode of Counting On that will feature their wedding.
"Watch our wedding episode on June 12!" Joy tells the camera.
Joy is the fourth Duggar kid to get married. However, her siblings were several years older than Joy is now when they got hitched. (For reference, Jill was 23 on her wedding day, Jinger was 22, Jessa was 21 and Josh was 20.) Joy is still older than her mother, Michelle, was when she got hitched to Jim Bob at the age of only 17.
Jim Bob and Michelle made their own video to congratulate Joy and Austin.
"I can't believe our little Joy-Joy is married!" Jim Bob says.
"She's no longer a Duggar now, she's a Forsyth," Michelle says gleefully. "We couldn't be happier for Joy and Austin."
There will be another Duggar wedding on the way very soon. Joy's older brother, Joseph, proposed to his girlfriend Kendra Caldwell during Joy and Austin's wedding reception. (Click here for details on that!)
More wedding details will surely be coming soon, and Joy and Austin's wedding episode of 'Counting On' will kick off the show's new season on June 12 on TLC.
To learn more about all of the Duggar Family weddings, click here!
Watch Joy and Austin's video for TLC below:
(Photo: TLC)