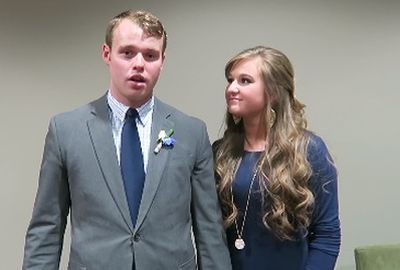 The wedding day is arguably the most important day in a Duggar girl's life, but unfortunately for Joy Anna Duggar, she had to share the spotlight at her wedding to Austin Forsyth on Friday night with her brother, Joseph Duggar.
The Duggar Family announced on Friday that Joseph, 22, decided to propose to his girlfriend, Kendra Caldwell, during Joy and Austin's wedding reception…as you do. Kendra, who has been courting Joseph since March, accepted the proposal.
In a video message taped for fans at Joy's wedding, Joseph explained that he got permission from his sister and Austin to pop the question at their reception.
"A few weeks ago I asked Joy and Austin if they would mind if I proposed to her at the wedding and they said, 'Oh yeah, we'd love it!'" Joseph says in the clip.
Now that they are officially engaged, Kendra and Joseph can now do a few more things than they could when they were just courting. Of course, though, kissing is still off-limits until the wedding day.
"This is different from courtship because we can now hold hands and say 'I love you,'" Kendra says.
Joseph is the second Duggar son to get engaged. His brother, Josh, has been married since 2008, and four of Joseph's sisters are also hitched. Although Joseph and Kendra haven't indicated when they plan to tie the knot, the Duggars are known for having short engagements, so the wedding will likely take place in the next few months.
Some 'Counting On' fans called Joseph out for continuing to take Joy and Austin's thunder, particularly because Joseph and Kendra announced their courtship just days after Joy and Austin announced their engagement.
"Joseph and Kendra keep stealing the spotlight from Joy and Austin," one person commented on the Duggar Family Blog. "I think that's horrible to announce your engagement at a sibling's wedding. Joseph should've waited a month to propose."
Others felt the proposal added to the joy (no pun intended) of the wedding day.
"I think it is wonderful…I don't think it takes away I think it adds to the celebration…best wishes to all of you," one fan wrote on the Duggar Family Blog's Facebook page of the proposal.
Counting On fans will likely get to watch Joseph's proposal when the new season of the show premieres on June 12, with Joy and Austin's wedding episode starting the season off.
Watch the Joseph and Kendra discuss the proposal in the clip below:
(Photo: TLC)