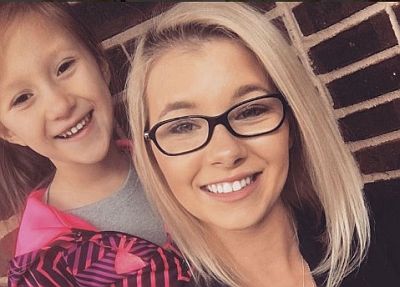 Lindsey Nicholson recently announced that she is pregnant, but the 16 and Pregnant alum just got some additional surprise news– she's having twins!
The Season 4 star took to her social media to announce the big news.
"SURPRISE! We prayed for one god laughed and gave us 2!" Lindsey posted on Twitter.
Earlier this month Lindsey, who is already the mother of five-year-old Aniyah, announced that she and her husband, TJ, were expecting. However, the couple just learned that they are having two babies.
In an Instagram post, Lindsey revealed that she had been dreaming that she was pregnant with twins since she found out she was expecting.
"I couldn't figure out why I'm showing so fast," she wrote. "Literally starving every hour…"
Lindsey said she found out that it was twins after she went to the emergency room after feeling faint.
"When the ultrasound tech said she would be right back, mine and TJ's hearts dropped," Lindsey wrote. "I told him 'something's wrong.' She came back in and said, 'Y'all are having twins!' We are so thankful they are in different sacs (less complications)."
On Twitter, Lindsey explained that her pregnancy with Aniyah (which was shown on her episode of "16 and Pregnant") was high-risk, and this pregnancy will be too.
"This is going to be a very high risk pregnancy and an anxious seven months," Lindsey wrote. "We can't wait to meet our babies."
Lindsey's husband TJ, who has legally adopted Aniyah, is also a twin, according to Lindsey.
"Found out from my grandma that twins do run on my side of the family," she later tweeted. "So with them on Tj's side & mine it was just inevitable."
She stated that if the babies are two boys, she plans to name them Jameson and Jackson.
After appearing on "16 and Pregnant" in 2012, Lindsey moved to Texas and became a real estate agent. She made headlines last year when she received very large breast implants from Dr. Miami.
Nearly all of the 12 girls featured on "16 and Pregnant" Season 4 have gone on to have at least one more baby (and in the cases of Mackenzie McKee, Jordan Howard, Sarah Roberts and Kristina Head, two more babies!) Lindsey is the first one from the season to have twins, however.
(In case you're wondering, Alex Sekella and Sabrina Solares are the only two girls from Season 4 who still have one child.)
To find out what some of the other girls from "16 and Pregnant" are up to now, click here!
(Photo: Instagram)