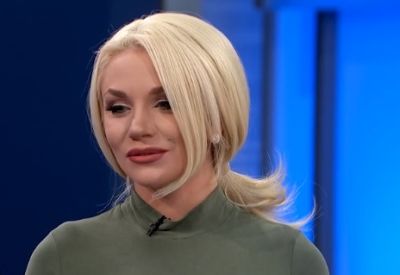 Reality star Courtney Stodden is speaking out about her issues with alcohol, pills and depression.
During a recent appearance on The Doctors, Courtney discussed her struggles with mental health issues and substance abuse. In the video clip, the former Mother/Daughter Experiment star discusses how she uses anti-depressants, alcohol and medical marijuana to cope with issues in her life.
Courtney first came into the spotlight when she married 50-year-old actor Doug Hutchison at the age of 16. Shockingly, marrying an old man while you're still a teenager can have damaging effects on your psyche.
The reality star told the show's doctors that her impending divorce from Doug and the estrangement from her mother Krista Keller are at the root of her substance abuse issues.
"I feel like I've lived so many lives at such a young age," Courtney said. "It's exhausting."
Courtney, now 22, also talked about her 2016 miscarriage, and how she needs medication to deal with her grief.
"I also have been taking anti-anxiety medication, otherwise I literally feel like I'm going to jump out the window," she said. "And I don't know if I'm coping in the most healthy way…[I've been] partying a little too hard."
"Sometimes I have medical marijuana, but that doesn't really help because I start having a panic attack," she added.
Courtney admitted that she often turns to partying and drinking to deal with her depression. (As you may recall, we previously reported on her recent wild "Divorce Party" in Vegas.)
"I kind of missed out on the party scene and going crazy because I got married so young," she told The Ashley last month. "I really want to go out and experience life now. I was married from the ages of 16 to 22 and those are the ages you really build your character and I kind of feel like I haven't had a chance to do that yet."
Courtney also talked about how strange it was that her mother allowed her to marry a 50-year-old man when she was just a teenager.
"My mother was the one who granted permission," she said. "Now, when I'm explaining the story, it's like 'Oh my God, this is crazy!'"
Courtney said that, although she has a volatile relationship with her mother, she's not necessarily angry with her for letting her get married.
"I do have a lot of hurt that I carry inside of me in regard to that relationship," she said. However, she said that Doug is "a good man, so I'm happy that she signed off to a good person."
Courtney and Doug and are legally separated and are in the process of divorcing. The couple was married for six years. Courtney said she feels like she never really had a chance to be out on her own.
"I went from my parents to another parental figure," she said. "I just want some normalcy now."
Dr. Stork tries to talk to Courtney about her depression and anxiety and the tools she's using to cope with them.
"I literally feel like my coping mechanisms could lead to a disastrous, vicious situation," she said. "I think if I seek the proper coping mechanisms, I could turn this around and be the young woman I want to be."
Specialist Dr. Damon Raskin offered a warning to Courtney about mixing drugs and alcohol.
"Mixing various medications with alcohol, it can be a very dangerous thing," he said.
The doctors ended up offering Courtney a complimentary session to look at the medication she's on and try to figure out what's the best road for her to recovery.
Watch Courtney discuss her substance abuse issues in the clip from 'The Doctors' below: