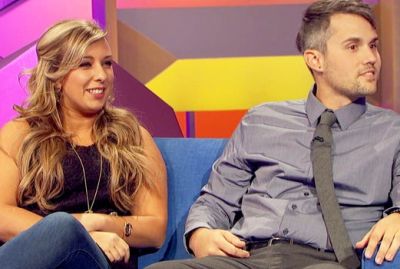 Mackenzie Standifer is finally speaking up regarding the rumors that her fiance, Ryan Edwards, has substance abuse issues. While that rumor has circulated the 'Teen Mom' World for over a year, things really came to a head on Monday's episode of Teen Mom OG, when Ryan's ex, Maci Bookout, voiced her concerns on-camera regarding Ryan's alleged drug issues.
During the episode, Maci says that she has encouraged Ryan to "go to a treatment center" and stated that "he would do it" but his friends and family may be holding him back.
"Everyone else around him is too afraid of what it will look like more than his health…it's all denial. They all know," Maci told Amber Portwood and Catelynn Lowell on 'Teen Mom OG.'
Amber, who is a recovering addict, admits that she, too, suspects that Ryan is using drugs.
"Ryan's f**ked up," Amber said. "I watch it, I see it, I know it. Where he's at right now, when I see him, I know where he's at and I'm like, 'Wow, he needs some guidance.'"
Mackenzie, who plans to marry Ryan in November, has remained relatively silent when she has been asked in the past about Ryan's alleged drug issues. However, she did speak to The Ashley last week about the topic, after a clip of Monday's episode of 'Teen Mom OG' aired. She was not ready to share her fiance's problems with the show's fans, though.
"Let them wonder, let them assume, and then let them eat cake," Mackenzie told The Ashley in regard to all of the fans who are wondering what has been going on with Ryan. "I don't feel like I need to defend myself to viewers. When they walk in my shoes or pay my bills, then maybe. But I have absolutely no respect for individuals who choose to put everyone else down."
On Wednesday, Mackenzie took to Twitter to address the topic.
"Here's a thought… maybe instead of making assumptions and tearing people down, you could spend that time praying for us instead," she tweeted.
When one Twitter user asked Mackenzie if she was OK with spending the rest of her life worrying if Ryan was high, Mackenzie clapped back.
"Well I am ready to spend the rest of my life not worrying about ignorant comments," she wrote in response.
Ryan has never publicly addressed the rumors that he is using drugs, except for one time last year when a paparazzi photographer managed to corner him after the taping of a 'Teen Mom OG' Reunion Show and ask if the drug rumors were true. Ryan denied the rumors at that time. 'Teen Mom' Producer Jaala Webster insisted at the time that "sometimes he's just tired."
Ryan and his parents have yet to comment publicly about Monday's episode.
(Photo: MTV)