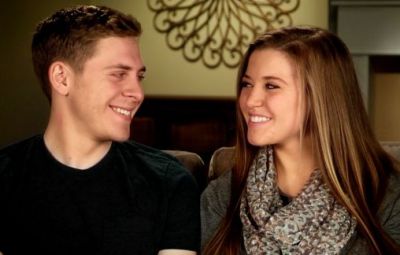 Joy-Anna Duggar has been married for less than a week, but already the 19-year-old Counting On star has babies on her brain!
We'll give you a moment to get over the shock…
Joy, who married Austin Forsyth last Friday, told People magazine that, like her parents and all of her married siblings, they are leaving the amount of children they have up to God.
"We love kids and we're excited to have a family. We're just going to see what the Lord does," she said.
The Duggar clan notoriously swears off the use of birth control, so Joy-Anna could find herself pregnant very soon. In fact, all of her married siblings have conceived their first child within the first six months of their marriages. (The exception is Jinger Vuolo, who has been married six months and has yet to announce a pregnancy.)
As for the number of kids we can expect Joy to squat out, the couple says that is also out of their hands.
"We want as many as the Lord thinks we can handle and we are putting it into His hands," Joy told the magazine.
In a video interview taped during Joy and Austin's wedding reception, the three married Duggar daughters– Jessa Seewald, Jill Dillard and Jinger–gave Joy some marriage advice. Although Jana Duggar is not married yet, she joined her sisters to reminisce about when Joy was a child (which, honestly, was just a few years ago).
"My advice to her for marriage was just to enjoy being a couple," Jessa, who has been married since November 2014, said. "I know that they're super excited to be getting married and it's going to be amazing. They're perfect for each other."
Joy and Austin's wedding will be the focus of the premiere episode of the upcoming season of 'Counting On, airing June 12 on TLC.
(Photo: TLC)