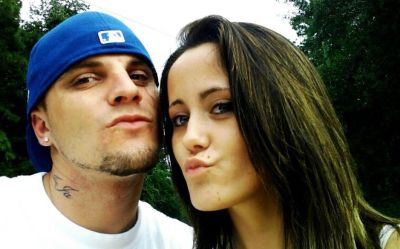 Courtland Rogers just can't quit Jenelle Evans.
The Teen Mom 2 star's ex-husband took to Twitter late Wednesday night to declare that he's still in love with Jenelle. His tweets, which seemed to come out of nowhere, made it clear that he wants Jenelle to give him another chance.
"I can't sleep and I have a confession to make..I miss Jenelle so freaking much…like more than anything in the world.. I MISS MY WIFE," Courtland wrote. "I MISS JENELLE LAUREN EVANS SO MUCH THO .. no matter what has happened in the past…ughhh I have to sleep…goodnight."
Courtland was Jenelle's soulmate during the fall of 2012 until early 2013. In December 2012, they made their love official, marrying at a North Carolina courthouse right after Courtland was charged by the same court for a felony. (As you do!) The couple celebrated their marriage with a fancy lunch at The Olive Garden.
Just months later, the couple split, and Jenelle would go on to abort the child she had conceived with Courtland. (Click here for the full timeline of Jenelle and Courtland's tumultuous relationship.)
Courtland was released from prison in March after serving 16 months behind bars for various charges. He has stated that he is now sober and working a recovery program.
It is not known whether or not Courtland has met up with Jenelle since he was released from the slammer. (He did, however, confirm that he ran into Jenelle's mother, Barbara Evans, recently.)
Jenelle has yet to respond to Courtland's tweets. Unfortunately for Courtland, Jenelle has moved on. She is currently engaged to David Eason, and recently gave birth to their first child together.
"I see her living her life with David and she looks happy," Courtland told Radar Online in April. "At the end of the day, that's all I ever wanted for her.
"When we tried it out, we were both high," he added. "If I loved her that much on drugs, I could only imagine what it'd be like if we were sober."
It looks like Courtland is doing his best to find out!