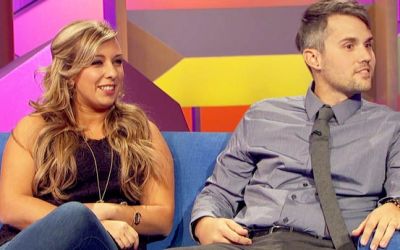 UPDATE! According to public records, Ryan and Mackenzie did already get hitched. The couple was married on May 15 in Hamilton County in Tennessee!
Teen Mom OG star Ryan Edwards has been surrounded by controversy since the most-recent episode of the show aired, with his ex, Maci Bookout, hinting that he had a major drug problem. Many fans wondered if the chaos and rumors would cause Ryan's fiancé Mackenzie Standifer to postpone their wedding (or call it off entirely) but The Ashley can confirm that is definitely not the case!
The Ashley can reveal that Ryan and Mackenzie's wedding is still on– but will be happening very, very soon (if it hasn't happened already!) A source tells The Ashley that the 'Teen Mom OG' stars applied for their marriage license at the end of May. The county in which their license was issued requires couples to marry within 30 days of the license being issued, which means the couple is definitely not getting married in November, as they had originally stated.
They would have to get married by the end of this month, according to the county's rules.
Mackenzie had said that she and Ryan would be walking down the aisle at the church that Ryan's parents, Jen and Larry Edwards, got hitched in. Now that the wedding date has been moved up, though, it's unknown if Ryan and Mackenzie will still get married there.
Despite all the rumors and controversy surrounding Ryan during the current season of 'Teen Mom OG,' Mackenzie has been supportive of her future husband.
"Here's a thought… maybe instead of making assumptions and tearing people down, you could spend that time praying for us instead," she tweeted recently.
This will be Ryan's first marriage and Mackenzie's second.
The Ashley will update this story when she has more information.
(Photo: MTV)