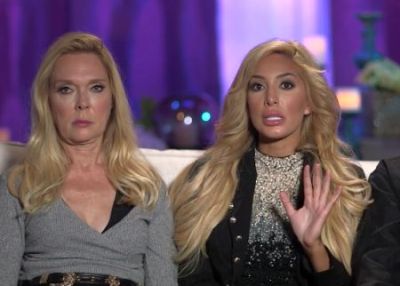 Farrah Abraham recently suggested that her mother, Debra Danielsen, may have Asperger Syndrome, and Deb is not happy with her daughter (or Dr. Drew Pinsky, who sort of agreed with the Teen Mom OG star), for publicly diagnosing her!
"I've researched so much about my mother that I think she has Aspergers and has some other things," Farrah said during a conversation with Dr. Drew and Bob Forrest on the "This Life Podcast."
Farrah's comments came after Dr. Drew suggested that there may be something biologically wrong with Debra that makes her unable to get along with Farrah.
"I'm going to say something now that is a boundary issue and we can pull it out of this show if you want," Dr. Drew said to Farrah. "I was just looking at your mom and have gotten to know her over the years too and I'm just worried there's something psychiatrically going on there that's not being properly managed. Am I on to something?"
Farrah at first either doesn't understand or doesn't want to answer the question.
"I guess she dates a doctor so there goes that," she replies.
"I'm thinking there's something really there that you've been pounding against your whole life and your mom isn't aware it's there and it's of a psychiatric nature… Not psychological but more like biological and you're wanting something from her that she just can't do because of this biology. Am I on to something here?" he asks.
Farrah finally concedes and gives the doctor the sound bite he's wanting.
"That is what it is. That's what I know now and I'm done with conversations and I'm done with fighting the uphill battle," Farrah said before suggesting that her mom has Asperger's, along with other medical issues that Farrah was unable to remember.
In a statement to The Ashley, Debra responded to Farrah and Drew's comments.
"Generally, healthcare professionals, in particular, neurologists and psychiatrists are best suited to establish if an individual has Asperger's syndrome and schizoaffective disorder," Debra told The Ashley, adding that the doctors she worked with on Marriage Boot Camp Reality Stars: Family Edition have assessed her thoroughly.
"I have been totally mentally, physically and emotionally healthy," Debra said. "Both Dr. Ish Major and Dr. Venus Nicollini confirmed that on WEtv's 'Marriage Boot Camp: Family Edition.'"
To be fair, Dr. Drew did cover his tail during the podcast and clarify that he was not able to actually medically diagnose Debra.
"I'm qualifying this. I'm not sitting in assessment of your mom," he told Farrah. "I'm not her doctor but I've been concerned there's something on the schizoaffective spectrum."
Farrah asked him to clarify what schizoaffective means, and Dr. Drew did his best to explain it to her. The National Alliance on Mental Illness describes schizoaffective disorder as a "chronic mental health condition characterized primarily by symptoms of schizophrenia, such as hallucinations or delusions, and symptoms of a mood disorder, such as mania and depression."
Also, for those wondering, here is a definition of Asperger's from the Autism Speaks website.
"Asperger's Syndrome was generally considered to be on the 'high functioning' end of the spectrum. Affected children and adults have difficulty with social interactions and exhibit a restricted range of interests and/or repetitive behaviors. Motor development may be delayed, leading to clumsiness or uncoordinated motor movements. Compared with those affected by other forms of ASD, however, those with Asperger's syndrome do not have significant delays or difficulties in language or cognitive development."
(Photo: WEtv)